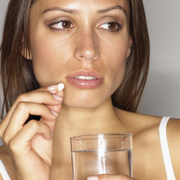 Brand X Pictures/Thinkstock
The blood thinning property of the common pain killer aspirin has been long known. It's a drug doctors prescribe to dissolve stroke clots.
New research now shows that it has yet another side to it but this one is more preventive in nature than curative.
Research done at Aarhus University Hospital in Denmark suggests that not just aspirin but other nonsteroidal anti-inflammatory Drugs (NSAIDs) or painkillers such as ibuprofen or naproxen could possibly reduce a person's chances of getting certain types of skin cancer.
The research which was published in the online medical journal of the American Cancer Society called "Cancer" suggested that the three major types of cancers whose chances were significantly reduced with the intake of NSAIDs were basal cell carcinoma, squamous cell carcinoma, and malignant melanoma.
The findings thus indicated that skin cancer prevention could be added to the list of benefits of these commonly used analgesic and anti-inflammatory medications. (1)
The anti-cancer properties of NSAIDs are suspected to arise from their ability to stop the activity of what is known as COX enzymes, which play a role in inflammation.
The research analysed medical records that had been filed over a nine-year period of patients with and without skin cancer in the northern Denmark region.
During the study they found:
• 1,974 cases were diagnosed with squamous cell carcinoma
• 13,316 cases were diagnosed with basal cell carcinoma
• 3,242 cases were given a diagnosis of malignant melanoma
The prescription data of these skin cancer patients was then compared with the information from 178,655 individuals without skin cancer.
It was noticed that those individuals who filled more than 2 prescriptions for NSAIDs:
• had a 15 percent lower risk of developing squamous cell carcinoma
• had a 13 percent decreased risk of developing malignant melanoma
compared to those who filled two or fewer prescriptions for NSAIDs. The differences in results were even more pronounced when the NSAIDs were taken at a high intensity or for a period of seven years or more.
What seemed surprising was that taking these NSAIDs made no great difference to the reduction in chances of development of basal carcinoma cells. The only observable change was a 15 percent and 21 percent reduced risk on less-exposed sites (areas other than the head and neck) when they took them long term or at high intensity, respectively.
According to lead researcher Sigrún Alba Jóhannesdóttir, BSc of Aarhus University Hospital, "We hope that the potential cancer-protective effect of NSAIDs will inspire more research on skin cancer prevention. Also, this potential cancer-protective effect should be taken into account when discussing benefits and harms of NSAID use." (2)
SOURCES:
1. Commonly Used Painkillers May Protect Against Skin Cancer; Science Daily News; Web June 2012;
http://www.sciencedaily.com/releases/2012/05/120529073847.htm
2. Aspirin May Help Prevent Skin Cancer; Live Science; web June 2012;
http://www.livescience.com/20615-aspirin-prevent-skin-cancer.html
Abstract of the technical report may be accessed at:
1. Nonsteroidal anti-inflammatory drugs and the risk of skin cancer; Wiley Online Library; Web June 2012;
http://onlinelibrary.wiley.com/doi/10.1002/cncr.27406/abstract;jsessionid=42CC08C5918B710083C0D1E10F096060.d02t03
INFORMATION IN THIS ARTICLE IS NOT MEDICAL ADVICE. ALL INFORMATION GIVEN IS TO BE CHECKED WITH YOUR DOCTOR BEFORE IMPLEMENTING OR TAKING THEM AS STANDARD OR VERIFIED.
Mamta Singh is a published author of the books Migraines for the Informed Woman – Tips From A Sufferer: ISBN: 978-81-291-1517-1 (Publisher: Rupa & Co. URL: http://www.amazon.com/Migraines-Informed-Woman-Tips-Sufferer/dp/8129115174/ref=sr_1_2?ie=UTF8&s=books&qid=1298990756&sr=1-2), Mentor Your Mind – Tested Mantras For The Busy Woman: ISBN: 978-81-207-5973-2 (Publisher: Sterling Publishers; URL: http://www.amazon.com/Mentor-Your-Mind-Tested-Mantras/dp/8120759737/ref=sr_1_1?ie=UTF8&qid=1316063179&sr=8-1) and the upcoming Women's Complete Fitness Guide (Publisher: Hay House India).
She is also a seasoned business, creative and academic writer. She is a certified fitness instructor, personal trainer & sports nutritionist through IFA, Florida USA. Mamta is an NCFE-certified Holistic Health Therapist SAC Dip U.K. She is the lead writer and holds Expert Author status in many well-received health, fitness and nutrition sites. She runs her own popular blogs on migraines in women and holistic health.
Mamta holds a double Master's Degree in Commerce and Business. She is a registered practitioner with the UN recognised Art of Living Foundation. Please visit www.mamtasingh.com/
Reviewed July 5, 2012
by Michele Blacksberg RN
Edited by Jody Smith
Tags: