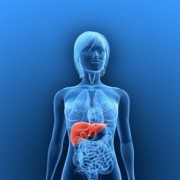 Hemera/Thinkstock
The drug metformin sold under the brand name of Glucophage has been studied by researchers at University of Maryland School of Medicine. They point out that this drug may help protect against cancer of the liver.
Metformin is prescribed as an oral medication to help treat and manage type 2 diabetes.
Though metformin is also being studied for its role in the prevention of other cancers, its effect on protecting the liver against cancer was first observed by scientists at the University of Maryland School of Medicine.
The findings of the study were published in the April issue of the medical journal of the American Association for Cancer Prevention, "Cancer Prevention Research". (1)
The generic drug metformin is a well-tolerated first-line drug of choice prescribed to treat those with type 2 (and not type 1) diabetes who are also overweight or obese, but have normal kidney function. "Metformin acts by increasing the sensitivity of liver, muscle, fat, and other tissues to the uptake and effects of insulin. These actions lower the level of sugar in the blood".
Metformin has also been found to prevent the cardiovascular complications that occur in diabetics as it helps reduce LDL cholesterol and triglyceride levels, and is not associated with weight gain.
Metformin does not increase the concentration of insulin in the blood and, therefore, does not cause excessively low blood glucose levels (hypoglycemia) when used. (2)
According to Geoffrey Girnun, Ph.D, the study lead and assistant professor in the department of biochemistry and molecular biology at the University of Maryland School of Medicine, "Since many of the effects of the drug take place in the liver, we were surprised when we reviewed the literature that there was no direct evidence for a protective effect of metformin in liver cancer except for a few retrospective epidemiological studies." (3)
The study was based on the mice model where liver tumors were induced in the mice with the aid of chemicals. It was noted that those mice which were on metformin showed minimal tumor growth as opposed to the group that were not administered metformin. This group exhibited significant tumor activity.
Apparently, metformin's ability to inhibit lipid production in the liver helps in preventing the development of liver cancer. Lipid synthesis in the liver is believed to be a contributory factor in liver cancers.
Those with diabetes, obesity and enlarged fatty liver not induced by alcohol abuse, are at greater risk for cancer of the liver. This group could be greatly benefitted from this finding.
Clinical trials by the researchers are now poised to begin. The study will start on humans to see if the conclusions arrived at on the mice model will also stand true for humans who are at risk for liver cancer.
SOURCES:
1. Metformin May Protect Against Liver Cancer; Science Daily News; April 2012; http://www.sciencedaily.com/releases/2012/03/120331151136.htm
2. Metformin, Glucophage; MedicineNet.com; Web May 2012; http://www.medicinenet.com/metformin/article.htm
3. Metformin May Protect Against Liver Cancer; American Association for Cancer Research (AACR) - Public & Media; April 2012; http://www.aacr.org/home/public--media/aacr-press-releases.aspx?d=2764
Technical report of the study may be accessed at:
1. Metformin Prevents Liver Tumorigenesis by Inhibiting Pathways Driving Hepatic Lipogenesis; Cancer Prevention Research - AACR Journals; April 2012; http://cancerpreventionresearch.aacrjournals.org/content/5/4/544
INFORMATION IN THIS ARTICLE IS NOT MEDICAL ADVICE. ALL INFORMATION GIVEN IS TO BE CHECKED WITH YOUR DOCTOR BEFORE IMPLEMENTING OR TAKING THEM AS STANDARD OR VERIFIED.
Mamta Singh is a published author of the books Migraines for the Informed Woman – Tips From A Sufferer: ISBN: 978-81-291-1517-1 (Publisher: Rupa & Co. URL: http://www.amazon.com/Migraines-Informed-Woman-Tips-Sufferer/dp/8129115174/ref=sr_1_2?ie=UTF8&s=books&qid=1298990756&sr=1-2), Mentor Your Mind – Tested Mantras For The Busy Woman: ISBN: 978-81-207-5973-2 (Publisher: Sterling Publishers; URL: http://www.amazon.com/Mentor-Your-Mind-Tested-Mantras/dp/8120759737/ref=sr_1_1?ie=UTF8&qid=1316063179&sr=8-1) and the upcoming Women's Complete Fitness Guide (Publisher: Hay House India).
She is also a seasoned business, creative and academic writer. She is a certified fitness instructor, personal trainer & sports nutritionist through IFA, Florida USA. Mamta is an NCFE-certified Holistic Health Therapist SAC Dip U.K. She is the lead writer and holds Expert Author status in many well-received health, fitness and nutrition sites.
She runs her own popular blogs on migraines in women and holistic health. Mamta holds a double Master's Degree in Commerce and Business. She is a registered practitioner with the UN recognised Art of Living Foundation. Please visit www.mamtasingh.com/
Reviewed May 16, 2012
by Michele Blacksberg RN
Edited by Jody Smith
Tags: