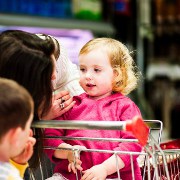 Photo: Getty Images
Yesterday I went to a big box store to buy a birthday present for my 6-year-old niece. With my children grown, it's been sometime since I've perused the toy aisle so I wandered a few minutes trying to get a grip on what the "must have" toys were.
During my exploration, in aisle after aisle, I ran into numerous mother-child "conversations." Each verbal exchange involved a child holding a toy with a death grip and using various methods of persuasion — from reasoned to desperation — to convince his or her bewildered parent to buy it.
I believe the human behavior I witnessed was what Dina Borzekowski, an associate professor at Johns Hopkins Bloomberg School of Public Health calls "The Nag Factor" — the tendency of children, who are bombarded with marketers' messages, to unrelentingly request advertised items.
Certainly living in the information age has enriched societies with more knowledge than mankind has ever had before and a lot of good has come from it. But one downside of the information revolution may be the barrage of useless chatter that is nearly impossible to filter out.
In 2006, the American Academy of Pediatrics found our children were exposed to more than 40,000 advertising messages each year from television, magazines, the Internet, even at school. At that time, the authors of the article, all members of the Committee on Communications, warned us these innocuous-seeming advertisements could be harming our kids.
"This exposure may be contributing significantly to childhood and adolescent obesity, poor nutrition, and cigarette and alcohol use," they wrote.
Indeed. Between 1980 and 2004, the prevalence of obesity more than tripled among children and adolescents. Today, one-in-three of all U.S. children are overweight or obese, according to the National Cancer Institute (NCI).
Obesity is a well-established risk factor for chronic diseases, including heart disease, diabetes, and cancer. Research shows obesity and physical inactivity may account for as much as 30 percent of several major cancer types.
"Research suggests that obesity at multiple periods throughout one's life may increase cancer risk and worsen a person's outcome," writes Dr. Rachel Ballard-Barbash, associate director of NCI's Applied Research Program."Further, evidence suggests that if overweight or obesity persists from childhood through teenage years, the risk of obesity during adulthood is greater."
But most young children aren't doing the grocery shopping, so just how do so-called junk foods — those low nutritional foods and beverages — end up on Americans' kitchen tables? That's the question Borzekowski and her colleagues asked when investigating factors that influence what experts are calling the childhood obesity epidemic.
The answer is, quite clearly: The Nag Factor.
The Bloomberg School of Public Health conducted research between 2006-2007 with 64 mothers of children between the ages of 3 and 5. Borzekowski's team selected mothers as interview subjects because they are most likely to act as "nutritional gatekeepers" for their household and control the food purchasing and preparation for small children.
The research, published in August 2011 issue of the Journal of Children and Media, found the more familiar children are with commercial TV characters, the more likely they were to employ specific types of nagging. Additionally, mothers cited product packaging, characters and commercials as the three main forces compelling their children to nag.
Borzekowski and colleagues found preschool-age nagging seemed to fall into three categories: juvenile nagging, nagging to test boundaries, and manipulative nagging; and moms consistently cited 10 strategies for dealing with it: (Do any of these sound familiar?)
giving in
yelling
ignoring
distracting
staying calm and consistent
avoiding the commercial environment
negotiating and setting rules
allowing alternative items
explaining the reasoning behind choices
limiting commercial exposure
Perhaps most enlightening, Holly Henry, a doctoral candidate at Johns Hopkins and lead author of the study, found that manipulative nagging and overall nagging increased with age. That may explain some of the techniques I saw in play at the big box store among the 8 to 12-year-old crowd. No doubt the scenario is played out in grocery stores across the country.
"When it comes to the most commonly cited strategies for dealing with nagging, 36 percent of mothers suggested limiting commercial exposure and 35 percent of mothers suggested simply explaining to children the reasons behind making or not making certain purchases. Giving in was consistently cited as one of the least effective strategies." Holly Henry said in a written statement.
Do you think limiting the amount of food and beverage advertising shown on commercial television and other media would lessen your child's nagging for unhealthy items? I'd love to hear what you think.
Lynette Summerill, an award-winning writer and scuba enthusiast lives in San Diego, CA with her husband and two canine kids. In addition to writing about cancer-related issues for EmpowHER, her work has been seen in newspapers and magazines around the world.
Sources:
Pediatrics. Children, Adolescents, and Advertising. Committee on Communications. Vol. 118 No. 6 December 1, 2006
pp. 2563 -2569 (doi: 10.1542/peds.2006-2698) Accessed online: http://pediatrics.aappublications.org/content/118/6/2563.full
NCI Cancer Bulletin. Preventing Cancer by Taking Steps to Reduce Childhood Obesity 23 February 2010. Online at: http://www.cancer.gov/aboutnci/ncicancerbulletin/archive/2010/022310/page8
Journal of Children and the Media. The Nag Factor: A mixed-methodology study in the US of young children's requests for advertised products. Holly K.M. Henry and Dina L.G. Brozekowski. Available online 1 August 2011. Pages 298-317. DOI:10.1080/17482798.2011.584380 http://www.tandfonline.com/doi/abs/10.1080/17482798.2011.584380
Reviewed September 1, 2011
by Michele Blacksberg R.N.
Edited by Jody Smith