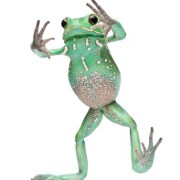 Photo: Getty Images
Scientists at Queens University, Belfast, Northern Ireland have discovered that proteins in the skin of the Waxy Monkey Frog could be used to treat cancer, diabetes, stroke and even transplant patients by regulating the growth of blood vessels.
This particular frog is declining in numbers so researchers don't kill or harm the frog in any way. Only a tiny amount of secretion collected from the frog's skin is needed to create a bank of biological data needed to help our understanding of naturally occurring medicines.
Mini-proteins were taken from the Waxy Monkey Frog and the giant fire-bellied toad. Waxy monkey frogs are tree frogs. They are wild but some captive bred ones are kept as pets. The female ones are bigger and the male ones have a black spot on their thumb during the breeding season.
Giant fire-bellied toads are one of four species of colourful-bellied toads. They are very small (4cm or less) and are gray-brown in color and named fire-bellied because their underside is bright red.
Their skins have very antimicrobial properties and previous studies of the toad found that they have 79 anti-microbial substances in their brains that were previously undiscovered by science.
The skin secretions from both creatures can be used to inhibit blood vessel growth and thus cut off the blood supply to cancerous tumors, making them a viable treatment for cancer.
Another protein found can encourage blood vessel growth which could be helpful to assist in wound healing, organ transplantations, diabetic ulcers and healing damage caused by strokes and heart conditions.
A commitment to save these animals' natural home environment could be undertaken so these creatures don't die out and humans can benefit from their life saving proteins.
Sources:
cubed - Life-Saving Frogs - British Council, British Council. Web. 20 August 2011. http://www.britishcouncil.org/science-cubed-story-6.htm
There are Abundant Antimicrobial Peptides in Brains of Two Kinds of Bombina Toads - Journal of Proteome Research (ACS Publications), ACS Publications. Web. 20 August 2011.
http://pubs.acs.org/doi/abs/10.1021/pr101285n
Waxy Monkey Tree Frogs, Monkeyfrog.com. Web. 20 August 2011. http://www.monkeyfrog.com/waxymonkeypage.html
Marc Staniszewski's Bombina FAQ, Amphibian Information Centre. Web. 20 August 2011. http://www.amphibian.co.uk/bombina.html
Joanna is a freelance health writer for The Mother magazine and Suite 101 with a column on infertility, http://infertility.suite101.com/. She is author of the book, 'Breast Milk: A Natural Immunisation,' and co-author of an educational resource on disabled parenting, in addition to running a charity for people damaged by vaccines or medical mistakes.
Reviewed August 24, 2011
by Michele Blacksberg R.N.
Edited by Jody Smith
Tags: