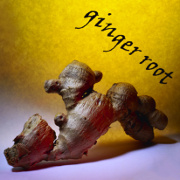 Photo: Getty Images
Researchers from the University of Michigan have discovered that ginger reduces biomarkers for colorectal cancer. It also decreased the incidence and number of tumors in rats, leading researchers to believe ginger could be used both as a preventive measure and as a treatment for colorectal cancer.
Ginger is the root of the plant Zingiber officinale and has been used for many years as a food flavoring, due to its spicy taste. It is also used for numerous medicinal purposes due to its anti-emetic and anti-inflammatory properties.
Examples of its use include: a remedy for travel sickness, colds and bronchitis, colic and to treat inflammation associated with arthritis. And cancer may now be added to the list.
Thirty healthy volunteers took either 2 g of ginger per day or a placebo for 28 days. After this time, levels of colon inflammation were significantly reduced in the group who took ginger. Colon inflammation is considered a pre-cursor or biomarker for the development of colon cancer.
How Does Ginger Reduce Inflammation?
Studies in rats have shown that ginger reduces inflammation by inhibiting the eicosanoids, or signalling molecules of the central nervous system. These signalling molecules control the immune response of inflammation. By downregulating them, inflammation is reduced or does not occur.
The researchers are now considering routine use of ginger supplements in people who are at high risk of developing colorectal cancer.
They wrote:
"On the basis of these results, it seems that ginger has the potential to decrease eicosanoid levels, perhaps by inhibiting their synthesis from arachidonic acid. Ginger also seemed to be tolerable and safe. Further investigation in people at high risk for CRC seems warranted."
If you have a family history of colorectal cancer, perhaps you could try cooking with the spice or having it as a supplement.
Contraindications to Ginger
There are a few cases where it shouldn't be used. These are:
1. If you have gallstones or peptic ulcers it will irritate these.
2. If you have a blood clotting disorder or are on blood thinning medications as it is a blood thinner.
3. If you are having surgery or a dental extraction in the next two weeks, it can make you bleed more.
Sources:
Phase II Study of the Effects of Ginger Root Extract on Eicosanoids in Colon Mucosa in People at Normal Risk for Colorectal Cancer, Cancer Prevention Research, Published online October 11, 2011. Abstract: http://cancerpreventionresearch.aacrjournals.org/content/early/2011/10/07/1940-6207.CAPR-11-0224
Spices, Exotic Flavors and Medicines, History and Special Collections Louise M Darling Biomedical Library. Web. 16 October 2011. http://unitproj.library.ucla.edu/biomed/spice/index.cfm?displayID=15
Ginger, The Eclectic Physician: A Journal of Alternative Medicine. Web. 16 October 2011.
http://www.eclecticphysician.com/herbs/ginger.shtml#References
Joanna is a freelance health writer for The Mother magazine and Suite 101 with a column on infertility, http://infertility.suite101.com/. She is author of the book, 'Breast Milk: A Natural Immunisation,' and co-author of an educational resource on disabled parenting.
Reviewed October 17, 2011
by Michele Blacksberg RN
Edited by Malu Banuelos
Tags: