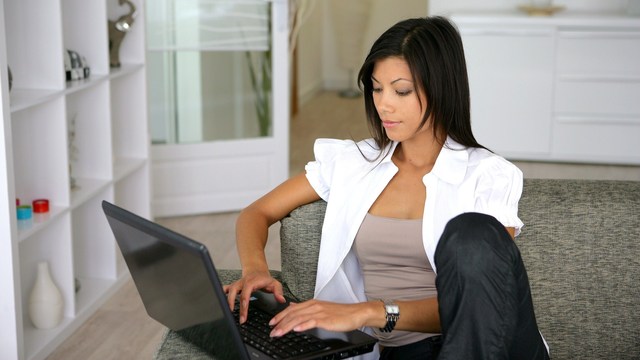 Auremar/PhotoSpin
Whether a patient or a caregiver, an individual's personal cancer journey can be wrought with previously unexplored emotions. Several social websites have popped up to help patients and their caregivers cope by chronicling their experiences.
CaringBridge, Lotsa Helping Hands, and Peer Support Network are three online social sites that offer a safe haven for support, sharing one's experiences and connecting with others facing similar health challenges.
The day after he was diagnosed with follicular lymphoma in 2011, Michael Buller started blogging about his cancer.
"Cancer is complex -- biologically, physically and mentally," he says. "Thinking Out Loud: A Cancer Blog is to sort out some of that complexity. [It's] part mental therapy, part conversation, and part update. The blog talks about all the myriad aspects of being diagnosed with cancer -- symptoms, treatment, attitude, support, research and many other topics."
Annette Stanton, a professor of psychology and psychiatry/biobehavioral sciences at UCLA's Jonsson Comprehensive Cancer Center, and her colleagues knew from previous research that expressing emotions surrounding the cancer experience and gaining social support can be helpful for patients.
The researchers however wondered if there were truly tangible benefits for people who create personal websites to detail their cancer journey.
As it turns out, there are.
Those who blogged about their experience were more likely to increase their quality of life, elevate a positive mood, experience less depression and enhance their appreciation for life, according to the new study published in the August 12, 2013 online edition of Journal of Clinical Oncology.
The effects were particularly strong for women in active medical treatment, most of who had advanced (metastatic) breast cancer.
For Mary Jane Happy, a journalist diagnosed with triple negative breast cancer starting her blog, A life less ordinary - surviving cancer, was as she puts it, "purely selfish."
"While doing chemo, I just didn't want to talk to anyone -- especially people I knew were not going to show up to help. I also wanted to stay in touch with people who genuinely did care but I often found it too hard to communicate with them during my treatment and its painful side effects," she wrote on her blog.
So on the advice of her cancer counselor, she started to chronicle her experiences as therapy. It worked, she says.
To test how patients might respond to blogging, the UCLA researchers conducted a randomized controlled trial. Dubbed Project Connect Online (PCO), they enrolled 88 breast cancer survivors, ages 28-76.
The cancer survivors participated in a three-hour workshop to create personal websites where they learned how to use the blog to express emotions related to their cancer, providing medical status updates, and letting others know what would be helpful.
"Our goal in this research was to provide a platform on which breast cancer survivors could reflect on their experiences, as well as communicate with and leverage support from their existing social networks, especially friends and family," Stanton said in an university statement.
"We worked closely with a website developer so participants had several choices for how their sites looked, but all sites had the same functions. It was inspiring to see women of so wide an age range and of such varied computer experience develop their websites and author their first posts in just a few hours," she said.
Women randomly assigned to the control group were placed on a waiting list and then subsequently offered the workshop six months later. All participants completed standard measures of psychological status before being assigned to their respective groups and six months after selection.
The women assigned to primary study group had less depression and better quality of life than did the control group, after blogging for six months.
Participants reported that their websites were particularly valuable for telling their stories, relaying their cancer experiences, expressing emotions, and reducing how much information they had to repeat for family and friends.
Readers -- particularly the patient's partner, primary caregiver, or other cancer patients -- found the blogs useful for providing updates on the authors' health and for emotionally connecting to the authors' experiences.
"Starting a blog may not be your prescription for healing, but for many it is a way to articulate what is often unthinkable and leaves behind for many, a legacy of thoughts and words that otherwise might never have been shared,"wrote Happy.
" I know my blog led to a few intimate written conversations about my illness -- and about myself -- that never would have been shared with me but for something I had written in my blog."
Stanton said that she and her colleagues are encouraged by the findings, "especially for cancer survivors with the most need, those in active medical treatment or with more advanced disease." A larger test of Project Connect Online is in the planning stages.
Susan G. Komen funded the current research for the Cure Foundation, the Breast Cancer Research Foundation and the National Institutes of Health.
Lynette Summerill is an award-winning writer and Scuba enthusiast who lives in San Diego with her husband and two beach loving dogs. In addition to writing about cancer-related issues for EmpowHER, her work has been seen in publications internationally.
Sources:
Project Connect Online: Randomized Trial of an Internet-Based Program to Chronicle the Cancer Experience and Facilitate Communication JCO JCO.2012.46.9015; published online on August 12, 2013 (Subscription required.) Abstract available at: http://jco.ascopubs.org/content/early/2013/08/12/JCO.2012.46.9015.abstract AND Personal Website Chronicling Improves Depressive Symptoms in Women with Breast Cancer. UCLA press release. Shaun Mason, 12 August 2013.
Thinking Out loud: A cancer blog. Michael Muller. Accessed 12 August 2013 http://msbuller.blogspot.com
Blogging can help cancer patients. A life less ordinary-surviving cancer. Mary Jane Happy. Accessed 12 August 2013. http://cancerandweddingsandreallygoodshoes.blogspot.com/2013/04/blogging-can-help-cancer-patients.html
Reviewed August 13, 2013
by Michele Blacksberg RN
Edited by Jody Smith