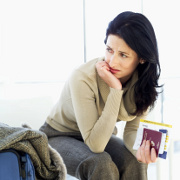 Photo: Getty Images
Security body scanners like those used at major airports across the country may pose a significant cancer threat, particularly to people older than 65 and women genetically at risk of breast cancer, some medical experts have warned.
One such expert is Dr. Edward Dauer, head of radiology at Florida Medical Center in Fort Lauderdale who said the scanners' low-dose radiation penetrates the body just below skin level where it could "imperil the lens of the eye, the thyroid and a woman's breasts," reported the SunSentinel.
"I think it's potentially a real danger to the public," he said, noting that even a small dose could be risky for people predisposed to cancer. "This is an additional exposure," Dr. Dauer told the newspaper.
The Transportation Safety Administration (TSA) uses two types of imaging technology, millimeter wave and backscatter. Currently, there are approximately 540 imaging technology units at more than 100 airports.
The scanners in question use backscatter technology to create an image of a passenger, enabling security officers to see if contraband is hidden beneath clothing. The problem, Dauer said, is the machines emit ionizing radiation.
"Ionizing means it knocks the electrons out of your body, which breaks your DNA chain, which can cause death or cancer," he said.
"Advanced imaging technology is safe and meets the national health and safety standards," according to the TSA website.
"Backscatter technology was evaluated by the Food and Drug Administration's (FDA) Center for Devices and Radiological Health (CDRH), the National Institute for Standards and Technology (NIST), and the Johns Hopkins University Applied Physics Laboratory (APL).
Its website says the TSA maintains that all results confirmed that the radiation doses for the individuals being screened, operators, and bystanders were "well below the dose limits specified by the American National Standards Institute (ANSI)."
Despite the TSA's reassurance, experts like Dauer are not convinced. Neither are TSA employees at Boston's Logan International Airport who have reported a "cancer cluster" among workers exposed to radiation during their shifts.
In June 2011, the Electronic Privacy Information Center (EPIC) located in Washington, obtained documents from the Department of Homeland Security through a Freedom of Information Act lawsuit, which EPIC said provided evidence that the government failed to properly test the safety of full-body airport scanners and dismissed the concerns of TSA agents regarding excessive radiation exposure.
"The advocacy group says they indicate that Homeland Security 'publicly mischaracterized' safety findings by the National Institute of Standards and Technology (NIST), by suggesting that NIST had 'affirmed the safety' of full body scanners," reported Time.
Dr. David Brenner, director of Columbia University's Center for Radiological Research told Time that, because people will get cancer regardless of exposure to body scanners, it's difficult to say how much their exposure to scanner radiation is a factor.
"On a population level, cancer affects four of every 10 Americans, so the contribution of scanner radiation to that rate is difficult to pin down."
In a December 2011 poll conducted by Thomson Reuters and NPR, nearly a quarter of U.S. residents said they would refuse full body scans, 22.6 percent were afraid of exposure to radiation, and 15 percent of respondents said they are concerned new airport security measures will negatively affect their health.
Lynette Summerill, an award-winning writer and scuba enthusiast lives in San Diego, CA with her husband and two beach loving dogs. In addition to writing about cancer-related issues for EmpowHER, her work has been seen in newspapers and magazines around the world.
Sources:
Cancer concerns mount over TSA body scanners. Ken Kaye, Brittany Wallman, staff writers, SunSentinel.com. 25 December 2011. Accessed 26 December 2011 at:
http://articles.sun-sentinel.com/2011-12-25/news/fl-tsa-scanner-concern-20111223_1_body-scanners-backscatter-machines-millimeter-wave-scanners
Did Airport Scanners Give Boston TSA Agents Cancer? Time Magazine. Frances Romero. 30 June 2011. Accessed 26 December 2011 at:
http://healthland.time.com/2011/06/30/did-airport-scanners-give-boston-tsa-agents-cancer
One Fifth Would Refuse Airport Full Body Scan:Survey. Medical Daily. Christine Hsu. 23 December 2011. Accessed 26 December 2011 at: http://www.medicaldaily.com/news/20111223/8402/americans-airport-airplanem-security-scanner-full-body-scan-health-radiation-flu-reuters-he.htm
Reviewed December 27, 2011
by Michele Blacksberg RN
Edited by Jody Smith