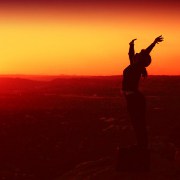 Photo: Getty Images
I heard an unforgettable singer recently as she gave hope to 600 cancer survivors at a banquet in Houston. I just had to share the inspiring story of this young woman with you because she's sure to be famous. This is the story of Barbara Padilla, the woman who wowed the judges and audience on America's Got Talent in 2009 and was the first runner-up.
Padilla was a college student in Guadalajara, Mexico when she developed cancer - Hodgkin's lymphoma. At that time she was a promising opera singer. The visiting leader of her state's choir urged her to seek treatment at the renowned MD Anderson Cancer Center in Houston and came up with finances to assist her. Padilla was treated with chemotherapy and radiation and pursued her singing career with the help of a scholarship at the University of Houston.
But then the cancer returned. Barbara's treatment included radiation and in the process got second degree burns on her throat, as well as a few other side effects, but she never lost her voice. In fact, she sang Mass many nights during the treatment. She ultimately had a bone marrow transplant and, miraculously, it eradicated the cancer. Her voice was spared.
This was not only a gift to her but also a gift to all of us. As judge Piers Morgan said on the television show after she performed, "That was the single greatest vocal performance we've ever had on America's Got Talent."
Padilla is not only a great vocalist, she is also funny, charming and positive - another example of the often overlooked fight against cancer in young adults. Admittedly, cancer in young adults is uncommon. But when it occurs it threatens to steal dreams in the prime of their lives.
Fortunately, Padilla beat her cancer and her voice has triumphed. I am sure you will be blown away by her singing. To hear and see it, watch her performance on "America's Got Talent" here: http://www.youtube.com/watch?v=KZLsqL3frpg&feature=related or visit her personal website at http://www.barbarapadilla.com/
Matthew Zachary, another accomplished musician, and also a young adult cancer survivor, was in the audience listening as Padilla spoke. When he was diagnosed with pediatric brain cancer and told he'd likely never perform again, he was a 21-year old college senior and aspiring concert pianist.
Instead of accepting his fate, Matthew got busy living and founded the I'm Too Young for This Cancer Foundation to help others. Fifteen years, four albums, a wife, children and scores of concerts later, he's inspired thousands of people.
I bet he has already approached Padilla about speaking out more to show others that there can be life, and a career, after cancer.
To learn more about cancer and young adults, and hear directly from Matt Zachary, listen to my interview with him on Patient Power – Cancer In Generation X/Y: Does Anyone Care? – at http://goo.gl/aL5dD
About the author: Andrew Schorr is a medical journalist, cancer survivor and founder of Patient Power, a one-of-a-kind company dedicated to bringing in-depth information to patients with cancer and chronic illness. Audio and video programs, as well as transcripts, help patients make informed decisions to support their health in partnership with their medical team. Patient Power is at www.PatientPower.info and on Facebook. Schorr is also the author of "The Web Savvy Patient: An Insider's Guide to Navigating the Internet When Facing Medical Crisis."
Edited by Malu Banuelos
Tags: