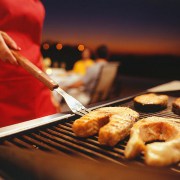 Photo: Getty Images
In the summer Americans love to grill. But many people who love to grill have no idea that the cuts of meat they are grilling or the blackening of the meat has cancer-causing agents in them. When meats are grilled they form cancer-causing polycyclic aromatic hydrocarbons (PAHs). While PAHs are usually associated with environmental toxicity because they are defined by the Agency for Toxic Substances and Disease registry as a group of over 100 different chemicals that are formed during the incomplete burning of coal, oil and gas, garbage, or other organic substances like tobacco or charbroiled meat. The fat from the meat, chicken or fish drips onto the charcoal and forms the PAH which covers the meat when the smoke drifts back onto the food, like an invisible soot covering the meat.
Here are a some tips to make grilling safer and healthier and still keep it a fun celebration for family and friends. These tips come from the MD Andersen Cancer Center and specifically refer to reducing colorectal cancer, however I would consider these suggestions as a preventative measure for any type of cancer.
1. One easy addition to your grilling menu is to add fruits and veggies to the grill. This adds fiber and phytonutrients to your meals and fruits and vegetables don't get cancer-causing PAHs because they do not contain animal fat.
2. Use lean cuts of meat to reduce the amounts of fat rendering that falls on the coals. Consider widening the types of food you are grilling by reducing the amount of red meat (which usually have more fat) and replace it with poultry and fish on the grill.
3. Avoid grilling processed meats like hot dogs, sausage, and ham. In the preserving process cancer-causing substances can form and when you eat them they can damage cells including your cells DNA.
In the next article we will talk about another substance that also occurs in grilling: Heterocyclic amines (HCA).
Live Vibrantly,
Dr. Dae
Sources:
http://www.mdanderson.org/publications/focused-on-health/issues/2011-june/grillmeatcancer.html
http://www.atsdr.cdc.gov/toxfaqs/tf.asp?id=121&tid=25
Reviewed July 5, 2011
by Michele Blacksberg R.N.
Edited by Alison Stanton
Dr. Dae's website: www.healthydaes.com
Dr. Dae's book: Daelicious! Recipes for Vibrant Living can be purchased @ www.healthydaes.com
Dr. Dae's Bio:
"Dr. Dae" (pronounced Dr. Day) Daemon Jones is a Naturopathic Physician who treats the whole person using safe and effective combinations of traditional and natural methods to produce optimal health and well-being in the lives of her patients.