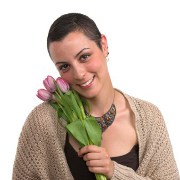 Photo: Getty Images
Does a little make-up lift your spirits? Do you get an extra pep in your step after a facial? When you have a manicure or pedicure do you just feel better? That's the premise behind the service organization, Look Good...Feel Better, that is designed to give cancer patients a self-esteem boost.
On their website, LookGoodFeelBetter.org, they describe their mission as a "non-medical, brand-neutral public service program that teaches beauty techniques to cancer patients to help them manage the appearance-related side effects of cancer treatment." Some people may think it is superficial to concentrate on the outer appearance of women living with cancer, but to women in the fight of their lives, being able to feel good about how they look may be another type of therapy that they need. It can lift their mood and motivation to get better.
In the April 17, 2011, edition of the LA Times, illustrates how a "better" face can really help a woman feel better. "Everyone I have the chemo conversation with wants to know how it will affect their appearance," says Dr. Lawrence D. Piro of the Angeles Clinic and Research Institute in West L.A. "It's a conversation worth having, and you can't trivialize or judge someone for it because what lifts somebody up is different for everyone."
And it seems this program is in high demand. The Look Good … Feel Better website states that their "group programs are open to all women with cancer who are undergoing chemotherapy, radiation, or other forms of treatment. In the United States alone, more than 700,000 women have participated in the program which no offers 14,500 group workshops nationwide in more than 3,000 locations."
The organization is getting some big name help from companies like Proctor & Gamble, Aquaphor, and Dior. Even the swanky Ritz-Carlton Spa, Amelia Island in Florida is donating $15 for every 60 minute facial performed from September 20 through November, 5, 2011 so patrons of their spa can help other women feel good too. Look Good…Feel Better is always look for additional donations for their services, which are free to all female cancer patients.
Source:
LA Times, "Beauty: A feel-better face when you're sick". April 17, 2011. http://articles.latimes.com/2011/apr/17/image/la-ig-beautytips-20110417
Ritzcarlton.com. Web. October 3, 2011. http://www.ritzcarlton.com/en/Properties/AmeliaIsland/Spa/Default.htm
LookGoodFeelBetter.org. "Program Description" Web. October 3, 2011. http://lookgoodfeelbetter.org/about-lgfb/program-description
Edited by Jody Smith