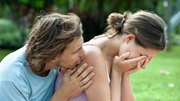 Photo: Getty Images
My son, Eitan, mentioned something in passing at the dinner table recently. As a 10-year-old he's always jabbering. This time I couldn't believe what I was hearing – the mother of a 5th grade classmate had died of cancer after only a three-week illness.
I was in shock. I could not believe it. But the next day I found out it was true. The woman, I believe in her late 50's, had died of aggressive lung cancer. I had met her several times and she was likable and very intelligent – a university professor. She leaves behind a husband and two children: a 5th grader and one in 2nd grade.
Our community rallied around the family to show support and we joined in at a reception. As with any sudden death, the family did not yet seem to grasp the permanence of the loss. But I was thinking about something different: week in and week out I talk about medical progress and I interview people who should have been dead from an illness and where advances in care have given them a second chance. However, it is important to realize that despite the advances, and beyond the hype of "medical breakthroughs," we still have a long way to go. There are still many aggressive diseases and catastrophic events. Certainly millions of people, like me, have benefited from advances in treatments. But there is not always an answer for your problem; even if there's promise in research it may not be ready just yet.
So how does someone proceed when you are hit with a scary diagnosis? Is there a "magic bullet" available for you?
Here's how I approach this:
1) Know your body; if you are having strange symptoms or you have any concerns, make a call to your doctor. And if you don't feel you are taken seriously, call another doctor or go to the emergency room.
2) If it isn't an emergency, seek a second and even a third opinion and do your research using credible sources (like Patient Power and EmpowHER).
3) Don't be afraid to ask for help from family, friends, and friends of friends to navigate the health care system to connect with the best resources.
4) Acknowledge that not all situations are curable or treatable. We are mortal, of course. So, rather than giving up, be realistic and help whoever is the patient have quality time with whatever time is left.
My son's classmate's parent went from diagnosis to death all too quickly. Sometimes I think "why her?" when I can cite so many people I know who "should" have been dead and are doing well. One of my in-laws was diagnosed with pancreatic cancer and, almost four years later, is doing fairly well and working when many people survive only weeks or a few months. Why has she survived?
It comes down to your individual situation, getting the best care, and – depending upon who you ask, faith, and even luck. As a cancer survivor and as smarter people have said: "Life is a terminal illness". So I proceed by planning for the future, but celebrating each day.
Patient Power: Online Video & Audio Interviews for Patients
Andrew's Blog: Leukemia Survivor