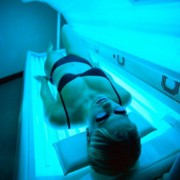 Photo: Getty Images
California may be called the Golden State, but most of the state's 9.5 million teens wanting that sun-kissed glow are going to have to achieve it the old-fashioned way. Gov. Jerry Brown signed Senate Bill 746 into law on Oct. 9, 2011, banning minors from using ultra-violet indoor tanning devices, the first state law of its kind.
The new law also mandates anyone using indoor tanning beds, where customers typically lie down under ultraviolet lights for up to 20 minutes per visit, to sign a written statement acknowledging he or she has read and understands the risks involved. The signed statements are to be renewed on an annual basis.
Ohio, Rhode Island, Illinois and New York are considering similar laws and at least 30 states now have some age restrictions on tanning bed use. It was one of 600 bills Brown had been reviewing over the past several weeks, according to the San Diego Union Tribune. The governor had until midnight Sunday to sign, veto or allow the pending bills to take effect.
The new sun bed law won't go into effect until Jan. 1, 2012. Until then current state law applies. It allows teens, ages 14-18, to use commercial tanning beds with a parent's consent. The new indoor tanning law eliminates the parental consent option.
California state Sen. Ted Lieu introduced the measure to prevent young people from increasing their risk to melanoma skin cancer. He pointed out to the Associated Press that the number of California tanning salons now outnumber Starbucks and McDonald's.
A study by researchers at Stanford, the Cancer Prevention Institute of California, and University of California San Francisco, published in the Archives of Dermatology is just one of many studies that points to an correlation between sunbed use and skin cancer.
Using data from the California Cancer Registry, the study found the number of new melanoma diagnoses, the most deadly form of skin cancer, grew the fastest among young females, one of the biggest consumers of indoor tanning.
Melanoma is the second most common cancer in U.S. for women aged 25 to 29 and the second most common form of cancer for young people 15-29 years old according to Skin.org. Over the past 30 years, the number of new melanoma cases has doubled for non-Hispanic white women ages 15-39 in California.
Of all types of skin cancer, Melanoma is the most deadly, killing 1 in 8. Of the estimated 120,000 new cases of melanoma in the United States diagnosed each year, more than half (about 68,130) are invasive melanomas, according to the American Cancer Society.
The California study's key findings showed affluent white girls and women in the top 20 percent of socioeconomic status were six times more likely to be diagnosed with melanoma than their counterparts in the bottom 20 percent.
"Girls in affluent California communities especially are surrounded by the message that being tanned all year round is cool," said Christina Clarke, a spokesperson for the Cancer Prevention Institute of California, in a statement. "Pop music star Katy Perry is even singing about it."
But not everyone is applauding the measure.
"There is no consensus among researchers that normal non-burning exposure to ultraviolet light, whether from the sun or a sun bed, has any effect on the development of melanoma skin cancer," the Indoor Tanning Association said in a press statement. The industry group says the law will not keep teens from tanning, but rather, will only cause the loss of thousands of California jobs.
Lynette Summerill, an award-winning writer and scuba enthusiast lives in San Diego, CA with her husband and two canine kids. In addition to writing about cancer-related issues for EmpowHER, her work has been seen in newspapers and magazines around the world.
Sources:
2010 California Census Facts and Figures. Accessed online 10 October 2011 at
http://quickfacts.census.gov/qfd/states/06000.html
Bill Text: CA Senate Bill 746 - 2011-2012 Regular Session. Accessed online 10 October 2011 at:
http://e-lobbyist.com/gaits/text/227255
San Diego Union Tribune. State Laws Signed, Vetoed, Pending. Updated 10 October 2011. at : http://www.signonsandiego.com/news/2011/oct/09/brown-decides-what-becomes-law-and-what-doesnt
A Push to Keep Minors Away from Tanning Beds. Scope, a publication of Stanford School of Medicine. Michael Claeys. 14 Sept. 2011. accessed online 10 October 2011 at
http://scopeblog.stanford.edu/2011/09/a-push-to-keep-minors-away-from-tanning-beds
The Indoor Tanning Association. Press Release.
California's New Indoor Tanning Restrictions Will Cost Thousands of Jobs. Accessed online 10 October 2011 at:
http://www.theita.com/?page=Press_Releases
SKIN CANCER FACTS. 2011 The Skin Cancer Foundation. Accessed online 10 October 2011 at
http://www.skincancer.org/Skin-Cancer-Facts
Reviewed October 12, 2011
by Michele Blacksberg RN
Edited by Jody Smith