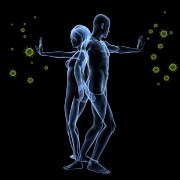 Hemera/Thinkstock
There is some very uplifting news for those of us who suffer from conditions that are brought on by suppression of our immune system. Researchers at Loyola have developed a technique which bolsters the immune system's killer T-cells and make them into more potent ammunition fights of cancers and other infections.
The study, which was published in the February 2012 issue of the medical journal Nature Medicine, talked about how DNA could be delivered into the immune system's instructor cells which would in turn go on a manufacture overdrive to stimulate the action of critical killer T-cells.
T-cells are essentially white blood cells and a very vital component of our immune system that play a critical role in cell-mediated immunity. However, in conditions like cancer and HIV, the production of these T cells is suppressed. (1)
The study was based on the mice model where the new technique proved effective in providing a boost and jumpstarting the faltering immune system of the immune-compromised mice. Similar evidence was seen in human cells as well in the study for those who suffered from HIV.
The new technique involved administering of DNA through a device called the 'gene gun' which would activate antigen-presenting instructor cells. These instructor cells would then produce certain proteins that when interacting with the hitherto inactive T-cells would unlock their killer properties.
The newly converted killer T-cells then go out, seek and destroy pathogens and cancer cells. The newly converted killer T-cells also remain alert if they again encounter pathogens or if the cancer comes back. In becoming killer T-cells the inactive T cells required the aid of other T-cells without which preying upon infectious cells became impossible. (2)
In HIV disease, the virus destroys the helper T-cells. Similarly, in cancer patients, the helper T-cells are suppressed by the infection and this limits their ability to assist killer T-cells, and eventually damages the T-cell's ability to attack other tumors.
This is exactly where the new technique helps. With the new method where the DNA is delivered from the outside, even if the tumor or virus has destroyed or suppressed the helper T-cells, the killer cells will be in a position to seek and kill the cancer or infected cells.
Further study needs to be done on the usage of this new technique for other conditions where the immunity is compromised eventually leading to fatalities.
SOURCES:
1. Promising New Technique to Rescue the Immune System; Science Daily News; March 2012; http://www.sciencedaily.com/releases/2012/02/120226153507.htm
2. Loyola Study Shows How To Rescue The Immune System In Compromised Conditions; Loyola Medicine - News Release; March 2012; http://www.loyolamedicine.org/News/News_Releases/news_release_detail.cfm?renderforprint=1&var_news_release_id=973441699
Technical report of the study may be accessed at:
1. NKG2D signaling on CD8+ T cells represses T-bet and rescues CD4-unhelped CD8+ T cell memory recall but not effector responses; Nature Medicine (Journal); March 2012; http://www.nature.com/nm/journal/v18/n3/full/nm.2683.html
INFORMATION IN THIS ARTICLE IS NOT MEDICAL ADVICE. ALL INFORMATION GIVEN IS TO BE CHECKED WITH YOUR DOCTOR BEFORE IMPLEMENTING OR TAKING THEM AS STANDARD OR VERIFIED.
Mamta Singh is a published author of the books Migraines for the Informed Woman – Tips From A Sufferer: ISBN: 978-81-291-1517-1 (Publisher: Rupa & Co. URL: http://www.amazon.com/Migraines-Informed-Woman-Tips-Sufferer/dp/8129115174/ref=sr_1_2?ie=UTF8&s=books&qid=1298990756&sr=1-2), Mentor Your Mind – Tested Mantras For The Busy Woman: ISBN: 978-81-207-5973-2 (Publisher: Sterling Publishers; URL: http://www.amazon.com/Mentor-Your-Mind-Tested-Mantras/dp/8120759737/ref=sr_1_1?ie=UTF8&qid=1316063179&sr=8-1) and the upcoming Women's Complete Fitness Guide (Publisher: Hay House India).
She is also a seasoned business, creative and academic writer. She is a certified fitness instructor, personal trainer & sports nutritionist through IFA, Florida USA. Mamta is an NCFE-certified Holistic Health Therapist SAC Dip U.K. She is the lead writer and holds Expert Author status in many well-received health, fitness and nutrition sites. She runs her own popular blogs on migraines in women and holistic health.
Mamta holds a double Master's Degree in Commerce and Business. She is a registered practitioner with the UN recognised Art of Living Foundation. Please visit www.mamtasingh.com
Reviewed April 5, 2012
by Michele Blacksberg RN
Edited by Jody Smith
Tags: