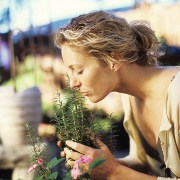 Photo: Getty Images
Spices have many health benefits beyond their ability to add flavor to foods as an alternative to the excessive amounts of fat, sugar, and salt so common in the American diet.
Dr. Ward Dean and I wrote an article for the online Vitamin Research Products library on the anti-oxidant, anti-microbial, and anti-inflammatory effects of common spices. I found a wealth of information in the medical literature about spices.
My favorite was the article by P. W. Sherman and G. A. Hash from Cornell University, Ithaca, New York, on the analysis of recipes in 107 traditional cookbooks from 36 countries. Sherman and Hash found that spice use increased with increasing climate temperature, especially for meat dishes.
The authors noted that meat is more susceptible than vegetables to attack by bacteria and fungi, and suggested that the recipes for meat in warm climates included the most spices in order to keep them safe for human consumption.
Rosemary is one of the spices that has also demonstrated anti-cancer effects. Dr. Chiung-Huei Peng and colleagues in Taiwan analyzed supercritical fluid carbon dioxide extracts of rosemary.
The primary active components were found to be carnosic acid, carnosol, rosemarinic acid, and ursolic acid. The extract inhibited growth of liver cancer cells in lab cultures, without killing normal liver cells. The suggested mechanism was the anti-inflammatory effects of these compounds.
"In chronic inflammation, cytokines induce production of nitric oxide (NO), which is converted to DNA-damaging, carcinogenic peroxynitrite and nitrite," Peng explained. The rosemary extract inhibited production of nitric acid without cellular toxicity.
As a bonus, Dr. T. Harach and colleagues at the Nestle Research Center in Switzerland reported that rosemary limited weight gain in mice fed a high-fat diet.
Mice who received rosemary leaf extract at a daily dose of 200 mg/kg of body weight also showed a decrease of 39 percent in liver triglyceride levels, indicating protection from fatty liver disease.
Rosemary is available in most grocery stores and has been used safely for thousands of years. The Food.com online kitchen dictionary recommends rosemary for dishes with beans, chicken, fish, lamb, pork, beef, grains, onions, oranges, peas, and spinach.
References:
1. Vitamin Research Products Library. Rosemary, Turmeric, Ginger and Garlic: Spice Up Your Life. Linda Fugate, Ph.D., and Ward Dean, M.D. Web. Sept. 18, 2011.
http://www.vrp.com/botanicals-and-herbs/rosemary-turmeric-ginger-and-garlic-spice-up-your-life
2. Sherman PW, Hash GA, "Why vegetable recipes are not very spicy," Evol Hum Behav. 2001 May; 22(3): 147.
http://www.ncbi.nlm.nih.gov/pubmed/11384883
3. Peng CH et al, "Supercritical fluid extracts of rosemary leaves exhibit potent anti-inflammation and anti-tumor effects", Biosci Biotechnol Biochem 2007; 71(9): 2223.
http://www.ncbi.nlm.nih.gov/pubmed/17827696
4. Harach T et al, "Rosemary (Rosmarinus officinalis L.) leaf extract limits weight gain and liver steatosis in mice fed a high-fat diet", Planta Med. 2010 Apr; 76(6): 566-71.
5. Kitchen Dictionary: Rosemary. Web. Sept. 18, 2011.
http://www.food.com/library/rosemary-340
Linda Fugate is a scientist and writer in Austin, Texas. She has a Ph.D. in Physics and an M.S. in Macromolecular Science and Engineering. Her background includes academic and industrial research in materials science. She currently writes song lyrics and health articles.
Reviewed October 3, 2011
by Michele Blacksberg RN
Edited by Jody Smith
Tags: