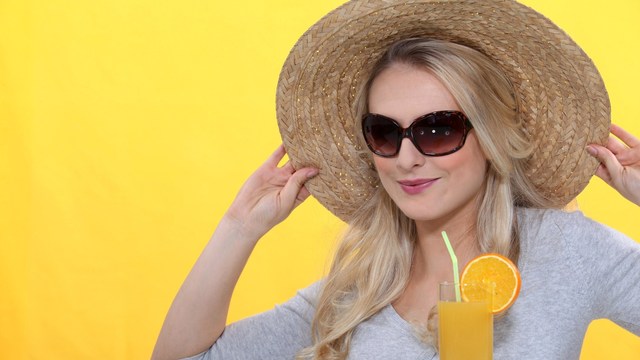 Angel Nieto/PhotoSpin
Summer is a time we try to both enjoy and avoid the sun. The FDA recently came out with new guidelines for sunscreen in 2013 to help protect us, but what about sun protective clothing? Sun protective clothing also claims to have SPF ratings.
Should you buy some?
Sun protective clothing are garments made from tight weaves and synthetic fabrics that may be treated with special sun blocking coatings. Any garment, even without a special chemical treatment, can have some sun blocking capabilities, particularly those that are dark colored and long sleeved.
For example, a regular white cotton T-shirt has an UPF around 5, which means it allows 1/5 or 20 percent of the UV radiation to pass through it. UPF, or ultraviolet protection factor, is the standard for UV protective clothing.
Garments that have higher UVF ratings from 15-50+ are often treated with a UV absorbing coating to provide higher ranked protection, explained the New York Times.
"Basically, a UPF rating of 50 indicates the fabric of a garment will allow only 1/50th (roughly 2%) of available UV radiation to pass through it. A garment rated UPF 25 permits roughly 4% (1/25th) UV transmission" stated REI.com.
Sun protective clothing first began to be used in Australia in the 1990s due to their high exposure to UV light. It then became popular for use by cancer patients here in the United States.
Many name brand retailers such as the Gap, Izod and Landsend now sell UV protective clothing and special lines such as Coolibar or ExOfficio sell only these types of clothes.
Alternatively, there is a wash-in product that you may use on your existing clothes to boost their sun protective quality by Sunguard. Sunguard contains Tinosorb FD, a protectant created by Europe's Ciba labs that boosts your clothes UV protection to up to 96 percent or a UVP of 30. It is applied with a single wash and lasts up to 20 washings.
Dermatologists seem to have mixed opinions on whether wearing special sun protective clothing is worth the extra step.
Dr. Susan Weinkle, a dermatologist from Bradenton, Florida told Today.com that the benefits are worth it. "Most people don't apply enough lotion and still consider themselves protected even after swimming or perspiring heavily, which dilutes sunscreen's effectiveness," Weinkle said. "Sunscreens just don't stay on."
However, Dr. Naomi Lawrence, head of Procedural Dermatology at Cooper University Medical Center in Camden, N.J. told the New York Times, "When it comes to sun protection, you really can't beat a dark shirt with a tight weave and a good hat. There is a lot you can do and not spend a lot of money."
"Our recommendation is that you stick to clothes with tighter weave and that will provide adequate UPF protection," said David Andrews, a senior researcher with the Environmental Working Group, which compiles an annual guide to sunscreens.
According to Today.com, over 2 million American are diagnosed with skin cancer each year, so taking extra steps to protect ourselves is warranted.
Be diligent with your use of sunscreen. Practice sun-avoidance behaviors such as steering clear of its rays during the most intense times of the day between 10 a.m. and 2 p.m. Also, consider either wearing sun protective clothing or other long sleeved, tightly woven clothes and a hat when out in the sun.
Sources:
New Breed of Products Is Said to Offer Sun Protection, but Doubts Linger. Retrieved July 14, 2013.
http://www.nytimes.com/2012/05/29/health/new-breed-of-products-said-to-o...
UPF clothes may work better than sunscreen. Today.com Health. Retrieved July 14, 2013.
http://www.today.com/id/44088846/ns/today-today_health/t/upf-clothes-may...
Sun Protection Clothing Basics. REI.com. Retrieved July 14, 2013.
http://www.rei.com/learn/expert-advice/sun-protection.html
Shedding light on your SunGuard questions. Sunguardsunportection.com. Retrieved July 14, 2013.
https://sunguardsunprotection.com/faqs/info_6.html
Michele is an R.N. freelance writer with a special interest in woman's healthcare and quality of care issues. Other articles by Michele are at www.helium.com/users/487540/show_articles
Edited by Jody Smith