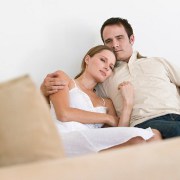 Photo: Getty Images
More people than ever are living as cancer survivors. According to the Centers for Disease Control and Prevention, the number of persons living in the United States after a diagnosis of cancer grew from 3.0 million in 1971 (1.5 percent of the population), to 9.8 million in 2001 (3.5 percent of the population), to 11.7 million in 2007 (3.9 percent of the population). Women are in the majority, especially for long term survivors. The statistics by gender are:
1. Survival for at least 5 years, 57.2 percent female

3. Survival for at least 25 years, 75.4 percent female
The majority of cancer diagnoses among the survivors (51 percent total) come from only three types: female breast cancer, prostate cancer, and colorectal cancer. These are less common than lung cancer, but have longer average survival times. The gender difference in survivors is primarily due to the difference in average age for development of breast cancer and prostate cancer.
The fear of cancer recurrence is a significant issue in quality of life for cancer survivors, according to Dr. Erika A. Waters and collaborators at the National Cancer Institute and the University of Pittsburgh, Pa. These researchers surveyed 774 cancer survivors about their quality of life, perceived risk of cancer recurrence, trust in their physicians, and worry about cancer. The findings were:
1. High perceived risk of cancer recurrence is associated with poorer mental and physical health related quality of life (QOL).
2. Survivors who have higher levels of trust in their physicians have better mental health related QOL, but the same physical health related QOL.
3. Trust in the physician moderates the poor mental health related QOL associated with high perceived risk. The authors interpreted this result to mean that patients may expect a high chance of cancer recurrence, but if they trust the physician to detect and treat new disease competently, then they worry less than similar patients with less trust.
Waters suggested that health care providers need improved training in QOL issues as the number of cancer survivors continues to grow. The risk of recurrence is one of the most important.
References:
1. Centers for Disease Control and Prevention, "Cancer survivors – United States, 2007", MMWR Morbidity and Mortality Weekly Report 2011 March 11; 60(9): 269-72.
2. Waters EA et al, "Perceived risk, trust and health-related quality of life among cancer survivors", Ann Behav Med. 2010 February; 39(1): 91-97.
Reviewed on May 18, 2011
Edited by Alison Stanton
Tags: