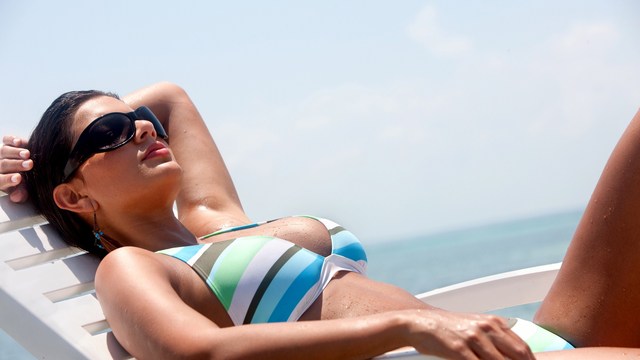 Andres Rodriguez/PhotoSpin
Part 1 in a 2-part series
For decades we have been educated on the terrible toll that too much sun takes on our skin. There's a mountain of clear and undeniable evidence that sun damage can lead to premature wrinkling, changes in the color and texture of the skin — even skin cancers.
What if you could take a pill to erase the sun's damaging effect on your skin? What if that pill provided all the benefits of using a sunscreen without the hassle of creams or sprays, or wearing protective sunglasses or clothing? Now, who wouldn't want that?
At first glance it sounds too good to be true, but is it? Are these supplements a safe and effective means to get broad-spectrum sun protection without the need for applying sunscreens to your skin?
So-called oral sunscreens, such as Sunpill, SunAssure, Heliocare and Fernblock all contain polypodium leucotomos extracts from the cabbage palm fern found in Central and South America.
These extracts, containing naturally occurring chemical compounds retrieved from the underground root and runners of the cabbage palm fern, may provide some antioxidant effect, said Dr. Emma Taylor, a medical dermatologist and fellow at UCLA Medical Center.
But don't throw out your high SPF sunscreen lotion or spray just yet.
"To date there is no definitive side-by-side study that compare oral sunscreens to topical sunscreens and there's still a lot of information we don't know about polypodium," Taylor said.
Consumers may find that company advertising for these products sound pretty convincing.
The ad for Fernblock says: "In over a decade of clinical trials, FernBlock has shown remarkable effectiveness in shielding skin against dangerous ultraviolet exposure. The result is an oral photoprotective agent that provides uniform, systemic, total-body surface protection (including the eyes, lips, and the scalp), without the problems associated with sunscreen."
While manufacturers of these sunscreen pills tend to infer through their advertising that ingesting a couple of tablets daily is all the protection you need, Taylor says oral polypodium simply isn't a substitute for topical sunscreens, which is still "considered the gold standard in skin protection."
According to Henry W. Lim, MD, chair of the department of dermatology at Henry Ford Hospital and a consultant to Ferndale Healthcare, the makers of Heliocare, polypodium leucotomos is "the most-studied form of oral photoprotection."
He told Dermatology World, "It [polypodium leucotomos] has a broad level of activity and the thought is that this activity is because of its antioxidant and anti-inflammatory properties. We know it is not a typical sunscreen because the sun protection factor is very low for this particular compound."
One oral sunscreen, SunAssure, even goes so far as to say their product offers an "equivalent to SPF 30 broad spectrum coverage" that lasts all day and night. But consumers will do well to dig a little deeper and read the fine print.
Each of the four oral fern extract products listed is accompanied with the suggestion that users still apply a topical sunscreen while taking their product.
"As dermatologists, we will always recommend sunscreens and sun-smart behaviors, like seeking shade, wearing hats and limiting sun exposure. These lifestyle strategies are vital to preventing skin cancer and should not be replaced," said Dr. Melanie B. Palm, MD, MBA, Founding Director of Art of Skin MD , and Assistant Clinical Professor at UC San Diego.
"But for certain people, these supplements can provide an increased level of protection," she said, adding that she personally recommends Heliocare to her patients and takes them herself.
Taylor is more skeptical. She said that sunscreens applied to the skin must go through some pretty rigorous tests and satisfy Food and Drug Administration (FDA) standards .
Only then can they make claims about providing broad spectrum UVA and UVB protection against the type of sun rays responsible for sunburn and long-term skin damage that can lead to skin cancer.
"I don't think we can say that about oral sunscreens just yet when there simply isn't the data available," Taylor said.
In Part 2, we'll dive into oral sunscreen claims and disclaimers and look at possible side effects and safety issues.
Lynette Summerill is an award-winning writer and Scuba enthusiast who lives in San Diego with her husband and two beach loving dogs. In addition to writing about cancer-related issues for EmpowHER, her work has been seen in publications internationally.
Sources:
Interview. Dr. Emma Taylor. 9 July 2013
Interview. Dr. Melanie Palm. 11 July 2013
Dermatology World, American Academy of Dermatology. "No Magic Pill", Richard Nelson. 1 May 2013.
http://www.aad.org/dw/monthly/2013/skin%20cancer/no-magic-pill
Press Release. Finally, there is something new under the sun! Ferndale Inc. Launches Heliocare. 24 April 2013.
http://online.wsj.com/article/PR-CO-20130424-911125.html
Fernblock
http://www.lef.org/Vitamins-Supplements/Item01728/Enhanced-Fernblock-with-Red-Orange-Complex.html?olditem=01311
Reviewed July 16, 2013
by Michele Blacksberg RN
Edited by Jody Smith
Tags: