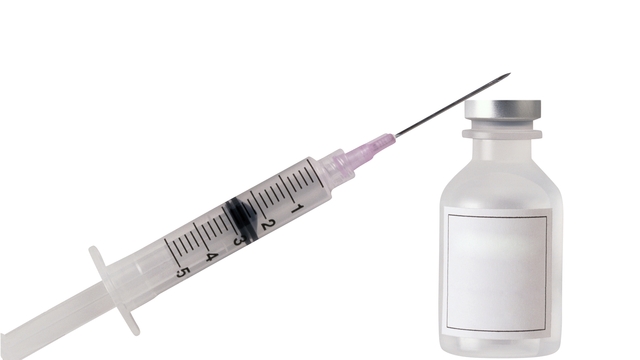 Arina Zaiachin/PhotoSpin
New personalized vaccines that amp up your own immune system could be a shot in the arm in the battle against breast and ovarian cancer.
Since the late 1800s, doctors have suspected that the human immune system plays a critical role in stamping out certain cancers, but back then the immune system was poorly understood.
In the last few decades, as researchers have learned more about how the human immune system works, immunotherapy has become an vitally important tool in treating tumors.
Immunotherapy, sometimes called biologic therapy or biotherapy, uses certain parts of the immune system to fight diseases. For some cancers, doctors are using vaccines that stimulate a person's own immune system into working harder and smarter to attack invading malignant cells.
While this type of treatment seems ultra-futuristic, or even a bit like science fiction, researchers believe immunotherapy has great potential to become an effective tool in fighting cancer and other diseases, like AIDS, tuberculosis and malaria — where current intervention strategies are lacking.
Several ongoing studies are examining to see whether or not metastatic breast cancer (MBC) responds positively to immunotherapy treatment. Here are just a few that could offer exciting news.
One pilot study recently used a recombinant poxvirus vaccine — genetically engineered immune system proteins used to target and destroy cancer cells — which showed a positive response in MBC and ovarian cancer patients, with far less toxicity than conventional treatments.
Researchers at the National Cancer Institute (NCI) treated 26 patients monthly with the PANVAC vaccine. All these patients were heavily pretreated, and 21 of them had received at least three prior chemotherapy regimens.
Among 12 MBC patients treated with the vaccine, the median time to progression was 2.5 months and median overall survival was 13.7 months, according to the study.
When the study concluded, four patients had stable disease, and one patient was cancer free.
Patients with stable or responding disease had fewer prior therapies and lower tumor marker levels than patients with no evidence of response. The most common side effect was a mild injection-site reaction, the study noted.
Cancer treatment vaccines are vastly different from the vaccines that work against viruses. Immunotherapy vaccines aim to get the immune system to mount an attack against predator cancer cells in the body and keep them from coming back.
And unlike maintenance chemotherapy, with its associated cumulative toxicity, a therapeutic vaccine may offer cancer patients clinical benefits with fewer adverse side effects.
"The hope and promise is that women with MBC who mount an antibody response to a vaccine may experience significantly longer median survival and a better quality of life," reported MedPage Today.
A separate ongoing NCI-sponsored MBC clinical trial is also testing a therapeutic cancer vaccine designed to stimulate the immune system to recognize human epidermal growth factor receptor 2 (HER2).
The vaccine, called AdHER2/neu dendritic cell vaccine, is a personalized treatment using an individual patient's own immune cells.
This one-year Phase I trial is open to individuals who are at least 18 years of age, who have HER2-expressing tumors.
It will test to see whether or not a therapeutic cancer vaccine designed to stimulate the immune system to recognize HER2 has any effect on tumor growth and regression rates, disease status, and vaccine-induced antibody profiles.
Alabama's Southern Cancer Center is conducting a clinical trial investigating a vaccine that uses oncofetal antigen (OFA), a molecule exclusive to cancer cells. Although OFA is found in large concentrations on all cancer cells, it is especially abundant in breast cancers.
Investigators are hopeful that this open-label, Phase I study will show that the OFA molecule is a good target for stimulating a patient's own defenses against breast cancer cells.
Lynette Summerill is an award-winning writer and Scuba enthusiast who lives in San Diego with her husband and two beach loving dogs. In addition to writing about cancer-related issues for EmpowHER, her work has been seen in publications internationally.
Sources:
Recombinant poxvirus vaccines in biomedical research. BD Schnierle, Y. Suezer and Gerd Sutter. Poxviruses. 2007; pp311-327. Accessed online.
http://link.springer.com/chapter/10.1007%2F978-3-7643-7557-7_15#page-1
Mohebtash M, Tsang KY, Madan RA, et al. A pilot study of MUC-1/CEA/TRICOM poxviral-based vaccine in patients with metastatic breast and ovarian cancer. Clin Cancer Res. 2011;17:7164-7173. Abstract online.
http://www.ncbi.nlm.nih.gov/pubmed/22068656
ClinicalTrials.gov. Ad/HER2/neu dendritic cell cancer vaccine testing. Accessed online 12 September 2013.
http://clinicaltrials.gov/show/NCT01730118
ClinicalTrials.gov. A phase I cancer vaccine study for patients with metastatic breast cancer. Accessed 12 September 2013.
http://clinicaltrials.gov/show/NCT00715832
Therapeutic Vaccines for Metastic Breast Cancer. Medpage Today. Mark L. Feurst. January 2012. Accessed online 12 September 2013.
http://www.medpagetoday.com/resource-center/metastatic-breast-cancer/vaccines/a/37065?utm_content=
Immunotherapy. [Overview on treatment options.] American Cancer Society. Accessed 12 September 2013 online at:
http://www.cancer.org/treatment/treatmentsandsideeffects/treatmenttypes/immunotherapy/index
Reviewed September 17, 2013
by Michele Blacksberg RN
Edited by Jody Smith