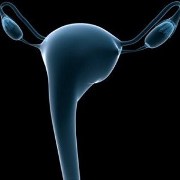 Photo: Getty Images
Lung cancer kills more women than any other cancer so you know not to smoke or to quit, if you do smoke. For colon cancer, screening -- usually beginning at age 50 -- can make a huge difference. For breast cancer, it's typically self-exams and mammograms that lead to early detection. But what about gynecologic cancers like ovarian and endometrial cancer?
For ovarian cancer, researchers are working hard on tests and markers that can detect the cancer early when it is much more treatable. They have a ways to go. But endometrial cancer is much more common and it is treatable -- unfortunately it's also on the rise.
Why? Because American women, like the population as a whole, are gaining weight. Fat cells in women store estrogen which can fuel endometrial cancer just like it does some breast cancers. While you may think fat cells just sit there and expand your waistline, they actually do more harm than that!
Endometrial cancer used to require surgery with large incisions and recovery over many weeks. Fortunately, that's not the case now in some cities. Leading gynecologic oncologists are becoming proficient in the use of "the robot" to cut out the cancer in a much more minimally invasive way. There's less blood loss, less trauma to the body and a much quicker recovery.
It amazed Rosemary Moothart, a Seattle business executive whose unexpected vaginal bleeding led to a diagnosis of endometrial cancer. She saw great benefit in the new, robotic approach and said she was back at work less than a week after her surgery.
Her doctor was Barbara Goff, M.D. from the Seattle Cancer Care Alliance who specializes in gynecologic oncology including complex gynecologic surgery and clinical trials for gynecologic malignancies. You can hear from both women and learn more about the changing landscape in gynecologic cancer treatment in my new interview on Patient Power, Robotic Surgery for Gynecologic Cancers, found at http://goo.gl/Qyslm
No matter what, as you work hard to have optimal weight, remember, you are not only lowering your risk of heart disease, diabetes and stroke, you are also reducing your risk for some cancers.
About the author: Andrew Schorr is a medical journalist, cancer survivor and founder of Patient Power, a one-of-a-kind company bringing in-depth information to patients with cancer and chronic illness. Audio and video programs, plus transcripts, help patients make informed decisions to support their health in partnership with their medical team.
Patient Power is at www.PatientPower.info and on Facebook, YouTube and Twitter. Schorr is also the author of "The Web Savvy Patient: An Insider's Guide to Navigating the Internet When Facing Medical Crisis" found at www.websavvypatient.com/
Sources:
Does lung cancer kill more women than any other type of cancer? The Globe and Mail Inc. Web. 14, Oct. 2011.
http://www.theglobeandmail.com/life/health/does-lung-cancer-kill-more-women-than-any-other-type-of-cancer/article1312859/
Surprise! Obesity (and Inactivity) Can Spur Cancers. Sciencenews.org. Web. 14, Oct. 2011. http://www.sciencenews.org/view/generic/id/2971/title/Food_for_Thought__Surprise!_Obesity_(and_Inactivity)_Can_Spur_Cancers
Robotic Surgery for Gynecologic Cancers. Patientpower.info. Web. 14, Oct. 2011. http://goo.gl/Qyslm
Reviewed October 14, 2011
by Michele Blacksberg RN
Edited by Jody Smith