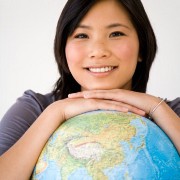 Photo: Getty Images
"Cancer can be prevented." That was the theme of this year's World Cancer Day, observed on February 4, 2011. World Cancer Day is an annual event promoted by the Union for International Cancer Control (UICC) to help people around the world be more aware of cancer and how it can be prevented, detected and treated.
Every year, over 12.7 million people are diagnosed with cancer and 7.6 million people around the world die from the disease. By the year 2030, those numbers are expected to reach 26 million diagnoses and 17 million deaths. Research shows that 30 to 40 percent of cancers can be prevented. One-third of existing cancers can be cured if they are diagnosed early and receive appropriate and timely treatment.
The goal of World Cancer Day is to significantly reduce cancer around the world by the year 2020. Organizers have created a World Cancer Declaration to establish common goals that all government officials, public health experts, and cancer advocates can agree to work toward.
Key points in the declaration include:
• Effective cancer control programs
• Significant decreases in tobacco and alcohol use as well as obesity
• Universal vaccinations programs
• Better methods to diagnose cancer
• Improved training for medical staff
• Universal availability of effective pain medication
• Dispelling myths and misconceptions about cancer
• Better survival rates for cancer
UICC is encouraging the following action to achieve the goals listed in the declaration:
• Place cancer on the political agenda
• Improve cancer prevention and early detection
• Provide better access to treatment for cancer patients around the world
In addition to bringing cancer to the attention of government and health care officials, the World Cancer Declaration provides a way for individuals declare their support of these health initiatives. You can learn more about the declaration and add your signature to over 500,000 others by visiting the World Cancer Day website.
Plans are currently under way to prepare for World Cancer Day 2012 which will be held on February 4t, 2012.
Sources:
World Cancer Day. Cancer Can Be Prevented. Web. October 17, 2011.
http://www.worldcancerday.org/wcd-home
Union for International Cancer Control. Declaration. Web. October 17, 2011.
http://www.uicc.org/declaration
World Cancer Research Fund International. World Cancer Day. Marilyn Gentry. Web. October 17, 2011.
http://www.wcrf.org/cancer_research/policy_advocacy/world_cancer_day/index.php
Timeanddate.com. World Cancer Day. Web. October 17, 2011
http://www.timeanddate.com/holidays/un/world-cancer-day
Reviewed October 18, 2011
by Michele Blacksberg RN
Edited by Jody Smith
Tags: