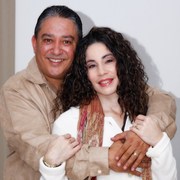 Photo Courtesy Lisa Velasco
When you've got more than a cold or the flu or a brief elective surgery, you may well depend upon a spouse, best friend or family member to help you get back on your feet. If it's a serious condition, it may be a really tough job.
Lisa Velasco of Jefferson, Ga. is sure that the love, understanding and support of her husband, Angel, and their children, Michael and Alex, helped her get to a place where, as she says, she looks forward to "growing to be an old lady."
Velasco has chronic myelogenous leukemia (CML), a rare condition diagnosed in about 5,000 people a year in the United States. This blood cancer causes the bone marrow to produce too many white blood cells.
Up until a few years ago there were few treatment options and most patients died. Today there are several new targeted therapies that enable most CML patients to live a normal lifespan.
Velasco was fortunate to be diagnosed at a time when there is tremendous, lifesaving, progress. But, even so, the emotional burden of being diagnosed with a serious condition is high.
With most of her family in another country, Velasco's husband took on the critical role of caregiver and was her "everything" as she started and responded to treatment. For her, Angel, was truly her "angel."
Hear about this directly from her in the video interview I did for Patient Power at http://www.patientpower.info/video/lisa-velasco-managing-cml-with-a-husband-s-strong-support/
As a cancer survivor myself, I know how important it is to have understanding and support from someone close.
My wife, Esther, has been there for me for many years. But it takes communication and mutual understanding. Sometimes the partner needs support for themselves too, as trying to remain positive day-in day-out can be difficult.
Counseling for the patient and the caregiver can help tremendously, as it did for me and Esther when I was diagnosed. Services are available in most communities.
U.S. patients and caregivers can find free online counseling and support resources from oncology social workers through the national nonprofit organization www.CancerCare.com/
Getting diagnosed with a serious illness is scary for anyone. You don't have to go it alone.
Turn to your spouse, partner, friend or a professional counselor to help you through it. Velasco turned to her husband and it's made all the difference.
About the author: Andrew Schorr is a medical journalist, cancer survivor and founder of Patient Power, a one-of-a-kind company bringing in-depth information to patients with cancer and chronic illness. Audio and video programs, plus transcripts, help patients make informed decisions to support their health in partnership with their medical team.
Patient Power is at www.PatientPower.info and on Facebook, YouTube and Twitter. Schorr is also the author of "The Web Savvy Patient: An Insider's Guide to Navigating the Internet When Facing Medical Crisis" found at www.websavvypatient.com/
Resources:
Interview with Lisa Velasco, Posted online on PatientPower.info, Accessed 10/17/12 at
http://www.patientpower.info/video/lisa-velasco-managing-cml-with-a-husband-s-strong-support
CML Therapies, National CML Society, Accessed online on 10/17/12 at
http://www.nationalcmlsociety.org/living-cml/therapies
Chronic Myelogenous Leukemia Treatment, National Cancer Institute, Accessed online on 10/17/12 at
http://www.cancer.gov/cancertopics/pdq/treatment/CML/Patient/page1
Our Services, CancerCare.com, Accessed online on 10/17/12 at
http://www.cancercare.org/services
Reviewed October 18, 2012
by Michele Blacksberg RN
Edited by Jody Smith