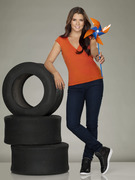 Photo: DRIVE4COPD
If you heard that Danica Patrick was driven you might think it was a reference to the fact that she's a famous NASCAR Nationwide Series race car driver. She's come a long way from IndyCar Rookie of the Year. Patrick was the first woman to win an IndyCar race. She's been named Most Popular Driver four times.
But "driven" also applies to her work with DRIVE4COPD.
Patrick has some personal experience with the heartbreak chronic obstructive pulmonary disease (COPD) can bring to a family. Her grandmother died at the early age of 61 from loss of lung function. She remembers her grandmother in her wheelchair, needing to be given oxygen, wearing an oxygen mask. Patrick was only 19 years old when her grandmother passed away.
When DRIVE4COPD approached Patrick two years ago, she jumped at the opportunity to make a difference. In a phone interview, Patrick expressed her belief that as an athlete it is vital to have a passion. Her involvement was launched at the Daytona 2010.
Patrick gives this advice to anyone experiencing problems like being out of breath, or coughing up phlegm. COPD is a condition that will not go away on its own, and will only get worse without treatment. While these symptoms don't necessarily indicate COPD, they are good reason to see a doctor.
Patrick said, "Don't ignore it. You can die before you're 70 years old." She went on to say, "It affects your whole family."
Her grandfather took care of her grandmother's oxygen, making sure the line didn't get kinked, keeping the mask on her grandmother so she could breathe.
Referring to seeking medical attention, Patrick issued this plea. "If you can't do it for yourself, do it for your family."
There are two types of COPD. Chronic bronchitis and emphysema are conditions that make it hard to breathe as less air flows into and out of the airways.
Chronic bronchitis leads to inflammation in the airways. This causes the airways to become constricted. Emphysema damages air sacs in the lungs, inhibiting air exchange.
In the United States, COPD is the fourth leading cause of death. Of the 24 million people who may be victims of COPD, as many as half of them are unaware of their condition.
DRIVE4COPD kicked off in February, 2010, and has become the biggest awareness campaign for COPD in the United States. Its thrust is to help make people more aware of signs and symptoms of COPD, and encourage them to see a doctor if needed. DRIVE4COPD is the Official Health Initiative of NASCAR.
Segments of the health community like the American Association for Respiratory Care, the COPD Foundation, the U.S. COPD Coalition and the COPD Alliance have united with many business, entertainment and sports organizations like NASCAR and the Country Music Association. DRIVE4COPD is sponsored by Boehringer Ingelheim Pharmaceuticals, Inc.
Patrick is one of three Celebrity Ambassadors for DRIVE4COPD, along with recording artist Billy Ray Cyrus, and country music singer Patty Loveless. DRIVE4COPD has also teamed up with Michael Kalish, an internationally celebrated sculptor and artist. He is known for turning license plates into works of art.
This time Kalish has transformed 24,000 license plates into 24 larger-than-life pinwheels, creating a monument called 24M. The number of license plates from each state represents the number of COPD patients of that state.
The base of each pinwheel is shaped like the state it represents, and from the air, 24M looks like a map of the contiguous United States. Spread out over about 30,000 feet, 24M is an impressive sight.
Cities in California, Florida, New York and Texas will be visited by 24M. These four states have the highest incidence of COPD in the United States.
The orange and blue pinwheel is a symbol carefully chosen for DRIVE4COPD, representing a person's ability -- or inability -- to breathe. And orange is their color.
On Capitol Hill on October 11, 2011, Patrick was keynote speaker at a briefing for COPD awareness. John W. Walsh, vice-chairman of the U.S. COPD Coalition (USCC) and co-founder of the COPD Foundation, issued the "Go Orange" resolution for the cause of increased COPD public awareness.
Orange represents days when the air is unsafe for sensitive people like those with lung disease according to the EPA's Air Quality Index. It's a color historically believed by some cultures to heal lungs and increase energy.
It doesn't hurt that orange is a color that grabs the eye. And now it's the official color for COPD awareness.
Patrick believes, "There are no limits."
She mentioned football teams that now wear pink for breast cancer awareness. She is convinced that if that can happen, anything is possible.
In the future, who knows? "Maybe they'll wear orange," she said.
DRIVE4COPD, along with the USCC and other like-minded organizations, are inviting the public to take part in the Great American Screen Off on November 4, 2011, and to wear orange to show their support.
Do you or someone you love have possible signs or symptoms of COPD? Do you have a chronic cough, shortness of breath, or wheezing? Do you have tightness in your chest? Have you been finding that it's getting harder to breathe?
Go to www.DRIVE4COPD.com to answer their five questions on the risk for COPD. If you find you are at risk for COPD, please see a doctor.
For further reading:
Danica Patrick
http://videos.godaddy.com/danica-media.aspx
What Is COPD?
http://www.nhlbi.nih.gov/health/health-topics/topics/copd
DRIVE4COPD Events
http://www.drive4copd.com/missing-millions/24m.aspx
Boehringer Ingelheim Press Release Archive
http://us.boehringer-ingelheim.com/news_events/press_releases/press_release_archive/2011/sept_14_2011.html
Sources:
Danica Patrick. Phone interview. October 6, 2011.
COPD Foundation: Capitol Hill Press Release
Photos: Courtesy of DRIVE4COPD
Reviewed October 11, 2011
by Michele Blacksberg RN