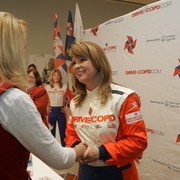 Photo: DRIVE4COPD.COM
The name Patty Loveless has been well-known since the late 1980s, especially to country music fans. Loveless started making her presence felt in the world of country music at a young age.
Her older sister Dottie Ramey had been a singer and a great inspiration to Loveless in her early years. Loveless looked up to her and wanted to follow in her footsteps.
"I've always felt like a child of the Opry. I did finally become a member in 1988," Loveless said in a phone interview, "Dottie had had dreams of becoming a member of the Grand Ole Opry one day."
But Dottie's time was cut short by emphysema, a type of chronic obstructive pulmonary disease, or COPD. Loveless' big sister Dottie died at the age of 48.
When Loveless was asked to be a Celebrity Ambassador for DRIVE4COPD, she was very interested in helping make people more aware of the dangers of COPD. Her earlier experience with her sister Dottie intensified her desire to become involved. She is one of three Ambassadors, along with Billy Ray Cyrus and Danica Patrick.
DRIVE4COPD was founded in February, 2010 by Boehringer Ingelheim Pharmaceuticals, Inc. who teamed up with a number of other organizations to make a difference on the COPD front. The American Association for Respiratory Care (AARC), the COPD Alliance, the COPD Foundation, the US COPD Coalition, as well as Breathe California of Los Angeles County are health organizations involved. NASCAR and the Country Music Association have also come alongside to lend their hefty support.
Music has been an important avenue in DRIVE4COPD's push for raising COPD awareness. And this is where Loveless' considerable reputation and musical experience has shone. In 2010, her song "Drive" became the anthem for the DRIVE4COPD campaign. Then in 2011, she and Billy Ray Cyrus participated in the judging of the Tune Up for COPD Songwriting Competition.
Amateur musicians and songwriters were invited to submit songs to raise COPD awareness. Out of more than 150 songs that were submitted, Tim Wright's "Just As Long As I Can Breathe" was chosen as the winner of the Tune Up for COPD Songwriting Competition.
On Nov. 16, 2011, which was National COPD Day, Loveless appeared at the Library of Congress as part of the CMA Songwriters Series with Bob DiPiero, Clint Black and Tim Nichols. One of the songs Loveless performed was "Drive", the song she'd written the year before for the DRIVE4COPD campaign. She dedicated her part in the evening at the Library of Congress to her sister Dottie.
Loveless felt honored to be a part of this event, indeed, honored to be able to work so extensively with DRIVE4COPD in so many ways. The next event on her agenda, though, is one that takes her in a different direction. She is looking forward to being Grand Marshal for the Christmas Parade in her hometown of Dallas, GA on December 3, 2011.
Her passion for COPD awareness is unabated, however. Emphysema and chronic bronchitis are types of chronic obstructive pulmonary disease.
COPD is progressive, which means there's no getting better, and without treatment, the sufferer can get worse. Approximately 24 million people in the United States may be ill with COPD, and it's possible that about 12 million of them don't realize it.
DRIVE4COPD is determined to raise awareness about COPD with the goal of every sufferer receiving treatment. The earlier the illness is recognized and treatment begun, the better chances there are of preventing the illness from getting worse.
The DRIVE4COPD website has a screener with five questions that people can take, to see whether or not they may have either form of COPD. DRIVE4COPD particularly encourages people who are 35 years of age or older to go to the screener at http://www.drive4copd.com/copd-screener/screener.aspx
Loveless issued an invitation to all who may be vulnerable to emphysema and chronic bronchitis. "Take the screener at the website, and find out your risk." She continued, "It's so heartbreaking to see people with COPD. It hurts to see a loved one go through it."
Loveless referred to smoking as a serious risk factor for COPD. She expressed her concern for people who may be in the early stages of COPD and don't know it.
"We have such information available now. There's treatment available." Loveless expressed a heartfelt plea to everyone who will listen. "Think about those that love you so much. If you can't do it for yourself, do it for them."
For further reading:
The DRIVE4COPD Celebrity Ambassadors: Patty Loveless
http://www.drive4copd.com/partners/patty-loveless.aspx
Billy Ray Cyrus and Patty Loveless Join COPD Campaign
http://tasteofcountry.com/billy-ray-cyrus-patty-loveless-copd-campaign
ABOUT DRIVE4COPD
http://www.drive4copd.com/about.aspx
DRIVE4COPD and the Country Music Association Set the Stage for the Next Voice of COPD Awareness
http://www.multivu.com/players/English/48274-boehringer-ingelheim-tuneup...
DRIVE4COPD Events
http://www.drive4copd.com/missing-millions/tuneupforcopd.aspx
Source:
Patty Loveless. Phone Interview. Nov. 16, 2011
Reviewed November 23, 2011
by Michele Blacksberg RN