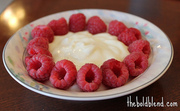 It's hard to believe we are already on Week 4 of the EmpowHER BodyMedia FITness Challenge! This has been a great experience so far and I'm very thankful for all I've learned about my health habits. The CORE armband is truly a great fitness tool.

Last week, I wrote about how I had been sick and didn't move too much. Unfortunately, the same can be said about this week. My tonsils are still not in good shape and a tonsillectomy is now inevitable. I have an appointment to see a surgeon in the next couple of weeks.

I finished up one course of antibiotics and have been put on another one in hopes of reducing the inflammation while I await surgery. In the meantime, I've been taking good care of myself. I'm eating healthy foods and drinking lots of water. Fruits, vegetables, clean meats, and good fats are the staples of my diet. That said, throat pain does wonders for appetite suppression so I haven't eaten very much. My weight is down to 187 pounds. I've lost eight pounds so far during this challenge. I would feel better about that much weight loss if half of it wasn't a result of illness. I had grand plans for plenty of exercise during the challenge! I do plan to resume some light walking this week since the weather is absolutely beautiful!
Despite the illness, I still so happy to be a part of this challenge. The BodyMedia FIT keeps me on track! Even though I might be tempted to eat ice cream because of this sore throat, I haven't. That's not the data I want staring back at me from the BodyMedia FIT activity manager! Even so, nice cold foods feel best right now so I've selected healthy choices. Instead of ice cream, I've been eating fresh fruit and organic yogurt. It's a nice ice cream substitute for only 150 calories! In addition, the yogurt is full of the probiotics I need while taking so many antibiotics.

Life throws challenges at us all the time. Responding to them as healthfully as possible is so important. I still have a few weeks left before facing surgery and I want to be as healthy as possible for it. I'm thankful that the CORE armband keeps me mindful of the entire picture.

BodyMedia FIT automatically tracks the calories burned during your daily activities — from pumping iron to using an iron — and monitors the quality of your sleep, an important factor in weight loss. Add in the easy-to-use food log and you have the information you need to improve your weight loss.

The 3 part system includes:
1. An Armband that automatically captures data
2. An optional Display device or free downloadable mobile apps that give you up-to-the-minute readings throughout the day
3. An online Activity Manager* that analyzes raw data, allows you to log food and presents info in an easy-to-understand way (*subscription required)

I encourage you to take the BodyMedia FITness challenge with me! You can purchase an armband through EmpowHER. You can learn the truth about the lifestyle choices you make throughout the day and how they affect your health.

Disclosure: Device and accompanying online Activity Manager subscription was provided by BodyMedia via EmpowHER. The opinions expressed herein are those of the author and are not indicative of the opinions or positions of BodyMedia or EmpowHER.