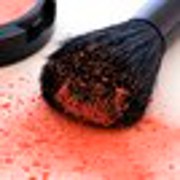 Photo: Getty Images
Most people use a variety of products on their skin and hair including shampoo, hair gel, cleansers, lotions and makeup. These products that are part of our everyday routine can also be the cause of a particular type of acne known as acne cosmetica.
If you have small bumps across a portion of your skin, you could have acne cosmetica. This kind of acne makes the skin look and feel rough and may cause white or blackheads, but does not always produce typical acne pimples or zits. Acne cosmetica is most often found on the face and neck as well as around the hairline and on the scalp.
As the name implies, acne cosmetica is caused by cosmetics. But don't think only women who wear makeup can get it. Any skin or hair care product that can build up in hair follicles and block pores can cause this condition, including hair oils or pomades, heavy creams or moisturizers, or some types of makeup.
Pores that become blocked can accumulate dead skin cells and oil. This is the basis for an acne blackhead or whitehead, which is also called a comedo. Makeup and other products may contain ingredients that are more likely to collect in pores. Some people can use these products with no problem while others develop comedones or acne cosmetica. The good news is this type of acne can often be reduced or eliminated by getting rid of the product that is causing the problem.
If you think you have acne cosmetica, think about the products you use on that part of your skin. If bumps are located along your hairline, consider changing hair products. If the problem is under your eyes, you might be using a moisturizer that is too heavy for your skin. Cosmetic manufacturers have recognized that some ingredients are more likely to cause this type of acne. Products labeled non-comedogenic do not contain those ingredients that have been shown to block pores.
Your makeup brushes and other applicators may also be contributing to your skin problems. Get rid of bacteria on applicators by washing them with antimicrobial soap regularly, and never share makeup with another person. And be sure to clean all makeup off your skin before going to bed each night.
Sources:
About.com: Acne. Acne Cosmetica. Angela Palmer.Web. August 10, 2011.
http://acne.about.com/od/acnebasics/p/acnecosmetica.htm
About.com: Acne. Noncomedogenic. Angela Palmer. Web. August 10, 2011.
http://acne.about.com/od/acneinformationglossary/g/noncomedogenic.htm
Acne.com. Acne Cosmetica. Web. August 10, 2011.
http://www.acne.com/types-of-acne/is-it-really-acne/acne-cosmetica/
Mayo Clinic. Acne. Web. August 10, 2011.
http://www.mayoclinic.com/health/acne/DS00169
Reviewed August 11, 2011
by Michele Blacksberg R.N.
Edited by Jody Smith