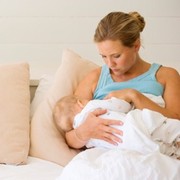 Photo: Getty Images
According to the National Institute of Diabetes and Digestive and Kidney Diseases (NIDDK), National Institutes of Health (NIH), "diarrhea is loose, watery stools." The NIDDK also stated, "having diarrhea means passing loose stools three or more times a day. Acute diarrhea is a common problem that usually lasts 1 or 2 days and goes away on its own."
Diarrhea does not discriminate. Pregnant women and children of any age can be afflicted with diarrhea.
During your pregnancy, diarrhea is not as frequent as constipation. However, pregnant women need to pay particular attention if they have diarrhea. In pregnant women, diarrhea can lead to dehydration and premature labor.
According to the Whattoexpect.com website, the cause of diarrhea during pregnancy may be a result of fluctuation hormones, stomach flu, food poisoning, lifestyle changes or intestinal parasites. If your pregnancy and your diarrhea persists more than 48 hours, contact your OB/GYN immediately.
Diarrhea in babies and children is fairly common as well. According to the NIH, diarrhea in children may be caused by any of the following:
• Illness
• Antibiotics
• Infection
• Food sensitivity
• Consuming too much fruit or fruit juice
A toddler or infant with diarrhea can easily suffer from dehydration. The key thing to remember is to keep your child hydrated during their bout with diarrhea. Monitor your child's health and behavior very closely for the next 48 hours.
According to ConsumerReportsHealth.org, here are some tips to prevent dehydration in your child.
• Rehydration drinks such as Gerber Liquilyte, Pedialyte, and Rehydralyte work well to prevent and treat dehydration.
• If you are breastfeeding, continue this as usual. Offer your baby feeds more often and try to make the feeds longer. You can also give your baby extra fluids, such as water or rehydration drinks.
• Try to avoid sugary drinks, like fruit juice, as they can increase the risk of a child becoming dehydrated. If you do use them, make sure they are well-diluted.
• Make sure older children keep drinking fluids. Offer plenty of water. Giving small sips often is better than trying to get them to drink a lot at once.
• If your baby is bottle-fed, you can continue with their usual formula milk. Do not dilute their milk.
• A vaccine can help prevent diarrhea in children.
• Offer your child food if they are hungry. It's important to keep up their energy.
The American Academy of Family Physicians recommends you call your doctor if your child has diarrhea and:
• Has had abdominal pain for more than two hours
• Is listless or unusually sleepy
• Has a stiff neck
• Has not urinated in eight hours
• Has blood in his or her stools
• Has signs of dehydration
• Is younger than six months old
• Is older than six months old and has a fever higher than 101.4°F
Sources:
Diarrhea - National Digestive Diseases Information Clearinghouse. Home -National Digestive Diseases Information Clearinghouse. Retrieved October 24, 2011, from http://digestive.niddk.nih.gov/ddiseases/pubs/diarrhea
Are Your Bowels Moving?. KidsHealth - the Web's most visited site about children's health. Retrieved October 24, 2011, from http://kidshealth.org/PageManager.jsp?dn=familydoctor&lic=44&article_set=10289#
Diarrhea During Pregnancy. What To Expect When You're Expecting, Pregnancy, Baby, Babies, Toddler, Parenting -- WhatToExpect.com. Retrieved October 24, 2011, from http://www.whattoexpect.com/pregnancy/symptoms-and-solutions/pregnancy-diarrhea.aspx
Diarrhea in children – diet. University of Maryland Medical Center | Home. Retrieved October 24, 2011, from http://www.umm.edu/ency/article/002466rec.htm
Diarrhea in children - diet: MedlinePlus Medical Encyclopedia. National Library of Medicine - National Institutes of Health. Retrieved October 24, 2011, from http://www.nlm.nih.gov/medlineplus/ency/article/002466.htm
Vomiting and Diarrhea in Children -- Common Conditions in Children -- familydoctor.org. Health information for the whole family -- familydoctor.org. Retrieved October 24, 2011, from http://familydoctor.org/online/famdocen/home/children/parents/common/stomach/196.html
What is Diarrhea in children?. Consumer Reports: Expert product reviews and product Ratings from our test labs. Retrieved October 24, 2011, from http://www.consumerreports.org/health/conditions-and-treatments/diarrhea-in-children/what-is-it.htm
Diarrhea in Children. Key Treatment Points. Consumer Reports: Expert product reviews and product Ratings from our test labs. Retrieved October 24, 2011, from
http://www.consumerreports.org/health/conditions-and-treatments/diarrhea-in-children/key-points-about-treatments.htm
Reviewed October 24, 2011
by Michele Blacksberg RN
Edited by Jody Smith