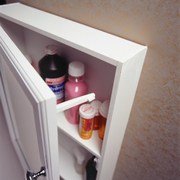 Photodisc/Thinkstock
Whether it's for pain relief, heartburn relief, diabetes care or other purposes, the many prescription and over-the-counter drugs at our disposal are usually formulated to do the trick.
But sometimes that relief comes at a cost, namely, the side effects felt by your digestive system.
Side effects like constipation, diarrhea, acid reflux and irritation of the stomach and esophagus can occur with a number of medications.
You will want to work carefully with your health care practitioner to monitor such side effects and change medications if needed.

An online article called "Medications & the Digestive System" from the Wexner Medical Center at Ohio State University spells out various side effects and possible ways to avoid them.  
For instance, constipation is a common complaint with medications for high blood pressure, peptic ulcers and high cholesterol and with iron supplements and certain antacids. The Wexner site explains that such products affect nerve and muscle activity in the colon to the point of slowing down the passage of stool.  
Possible solutions include adding more fiber to your diet, getting regular exercise, drinking more water and taking a laxative or stool softener, if your doctor advises it.  
Diarrhea poses another problem with some medications, especially antibiotics. That's because they change the bacterial environment of the intestines, sometimes leading to a Clostridium difficile (C. difficile) infection.
The Wexner site says ampicillin, amoxicillin, clindamycin and cephalosporins are commonly linked to diarrhea.
 
Dealing with diarrhea is a matter of avoiding foods that you already know irritate your stomach, along with replacing lost fluids and perhaps changing antibiotics.
 
When the concern is stomach irritation, a well-known culprit is the category of medications known as NSAIDs, or nonsteroidal anti-inflammatory drugs. Ibuprofen and other common pain relievers can weaken the stomach lining's resistance to acid, sometimes leading to inflammation and bleeding.
 
The best advice is to buy pain relievers that have coated tablets, to avoid alcohol and to take the tablets with food or a full glass of milk.
 
Irritation of the esophagus is seen as a potential drug side effect whenever the patient has difficulty in swallowing tablets and capsules. Medications that get stuck in the esophagus can irritate the lining, causing ulcers, bleeding
and perforations. Patients with strictures of the esophagus, scleroderma and a history of strokes have to be especially careful when swallowing pills.
 
The Wexner site recommends taking pills while standing or sitting and drinking enough water before and during the administration of the medicine.
 
Lastly, be on the lookout for acid reflux problems when taking medications. Among the medications that can interfere with the action of the sphincter lying between the esophagus and stomach are NSAIDs, nitrates, theophylline, calcium channel blockers, oral antibiotics and birth control pills, according to the Wexner site.
 
The general rules for preventing acid reflux apply, meaning that you should avoid coffee, alcohol, chocolate and fried foods. In addition, you should quit or reduce smoking, and you shouldn't lie down right after eating.
 
As an empowered patient, you should ask your health care practitioner about digestive system side effects whenever a drug is prescribed or an OTC medication is suggested. Look at the labels, too.
 
A helpful website for reading up on drugs and their side effects is the "Drugs, Supplements, and Herbal Information" section of Medline Plus, a service of the National Library of Medicine and the National Institutes of Health.
 
Go to http://www.nlm.nih.gov/medlineplus/druginformation.html/ and look up the medication or supplement by brand or generic name. Hundreds of products are listed, along with overviews of how they are used and their potential side effects.
 
Sources:
 
"Drugs, Supplements, and Herbal Information." Medline Plus. Web. 7 May 2012. http://www.nlm.nih.gov/medlineplus/druginformation.html
 
"Medications & the Digestive System." Wexner Medical Center at Ohio State University. Web. 7 May 2012. http://medicalcenter.osu.edu/patientcare/healthcare_services/digestive_disorders/medications_and_digestive_system/Pages/index.aspx
Reviewed May 21, 2012
by Michele Blacksberg RN
Edited by Jody Smith
Tags: