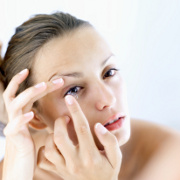 Photo: Getty Images
Your teenage daughter in junior high has been complaining of frequent headaches and watery eyes. You take her for an eye check up before the school resumes only to be told by the doctor that she has developed near-sightedness.
Much as this is upsetting, your daughter thinks it is good news as she now gets to wear contact lenses like some of her friends do. You check with the doctor and s/he prescribes gas permeable (GP) non-rigid lenses for your daughter after going through a short eligibility/evaluation questionnaire.
The doctor gives you her brief on contact lenses. You come home with a trial pair. What should your daughter expect in terms of everyday lens care? Here are a few tips from a lens user (of more than two decades) on how your daughter can maintain her GP lenses:
1. Hygiene and careful handling are the alpha and omega of good lens-wearing practice. Hands should be washed with soap and water before touching the lenses. This means a hand wash before putting the lenses on and a hand wash at the time she is going to take them out.
2. Hands should be rinsed of any soap or lather and other residue such as make-up material or food grease, etc. If soap or any other chemical comes in contact with the lenses and she puts them on, the eyes will experience a sharp burning sensation, irritation and temporary blurring of vision. This implies a hurried job of washing hands and could give unpleasant results.
3. Touching the insides or around the periphery of the eyes with unclean hands should be avoided. Germs from fingers or under fingernails could transfer into the eye and increase the potential for eye infections.
4. Make sure that the vial she is provided with to store the lenses are filled three-fourth way to the rim with the recommended multi-purpose solution (MPS) in which the lenses are to be soaked after taking them out of the eyes. This ensures the lenses are properly submerged and do not dry, warp or wrinkle.
5. Have her clean the lens storage vial twice every week with a weak, soapy solution to rid the vial of any protein residues from the contact lenses or microbial contamination. Rinse the vial well with tap water and give a last rinse with the MPS before filling the MPS to store the lenses.
6. The MPS solution should preferably be the one your doctor has recommended/prescribed and FDA-approved. Do not wash the contact lenses with tap water or lake or ocean water or any other form of water that is not sterile.
Eyes are a precious gift and we must be careful in making informed purchases. Check the 'use by' date on the container. (1)
7. Always have a back-up pair of glasses for your eyes, such that you use them around bedtime and in case you experience trouble with lenses, wearing difficulties or eye sensitivities and conditions, etc.
8. Have her remove her lenses as soon as she experiences problems with her eye such as a red or irritated eye or experiences changes in her vision.
9. Have her follow the exact cleaning procedure as told to her by her doctor or as mentioned in the label of the lens cleaning product, after she removes the lens from the eyes for storage.
10. In case of the rub-and-rinse method of cleaning before storage, use the pad of the finger tips for gentle rubbing. Avoid any contact with finger nails for you risk the tearing of the lens from nail edge.
11. If eye-make up must be worn for a social occasion, make sure a hypoallergenic and non-water-based formula is being applied. Wear the lens first and then apply the eye makeup.
Wear the eyeliner or mascara in a way that it does not bleed or run into the eye but away from it, if at all. At the time of removal, remove the lenses first, then take the eye makeup off. (2)
SOURCE(S):
1. Ensuring Safe Use of Contact Lens Solution – Do's and Dont's For Contact Lens Wearers; U.S. Food and Drug Administration, Web; 21st August, 2011; http://www.fda.gov/forconsumers/consumerupdates/ucm164197.htm
2. Insertion and Removal Tips - Tips for Contact Lens Wearers Who Use Cosmetics; Ciba Vision, Web; 21st August, 2011; http://www.cibavision.com/eye-health-care/insertion-removal-tips.shtml
***Information in this article is not medical advice. All information given is to be checked with your doctor before implementing or taking them as standard or verified.***
Mamta Singh is a published author of the books
Migraines for the Informed Woman – Tips From A Sufferer: ISBN: 978-81-291-1517-1
(Publisher: Rupa & Co. URL: http://www.amazon.com/Migraines-Informed-Woman-Tips-Sufferer/dp/8129115174/ref=sr_1_2?ie=UTF8&s=books&qid=1298990756&sr=1-2)
Mentor Your Mind – Tested Mantras For The Busy Woman: ISBN: 978-81-207-5973-2
(Publisher: Sterling Publishers; URL: http://www.amazon.com/Mentor-Your-Mind-Tested-Mantras/dp/8120759737/ref=sr_1_1?ie=UTF8&qid=1316063179&sr=8-1)
and the upcoming
The Urban Woman's Integrated Fitness Guide
(Publisher: Hay House India).
She is also a seasoned business, creative and academic writer. She is a certified fitness instructor, personal trainer & sports nutritionist through IFA, Florida USA.
Mamta is an NCFE-certified Holistic Health Therapist SAC Dip U.K. She is the lead writer and holds Expert Author status in many well-received health, fitness and nutrition sites. She runs her own popular blogs on migraines in women and holistic health.
Mamta holds a double Master's Degree in Commerce and Business. She is a registered practitioner with the UN recognised Art of Living Foundation. Please visit www.mamtasingh.com
Reviewed September 16, 2011
by Michele Blacksberg RN
Edited by Jody Smith
Tags: