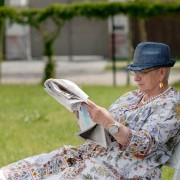 Photo: Getty Images
Glaucoma, cataracts, age-related macular degeneration and diabetic retinopathy are the most common vision-related diseases that affect millions of seniors every year and contribute to low vision.
Low vision is the loss of sight that is not correctable with prescription eyeglasses, contact lenses, or surgery. It includes different degrees of sight loss from having blind spots, poor night vision, and problems with glare to almost a complete loss of sight. The American Optometric Association divides low vision into two categories based on the vision in the best eye. There are multiple possible causes of low vision. Low vision is usually the result of disorders or injuries affecting the eye, or a condition such as diabetes that affects the entire body. Some of the most common causes of low vision include: age-related macular degeneration, diabetes, cataracts and glaucoma. If you have or are at risk of having these disorders, you are at an increased risk for having low vision.
Age related macular degeneration (AMD) is a condition where the cells at the back of the eye deteriorate and cause the central vision to become blurred or distorted. There are two forms of the disease--"dry" which is more common and milder, and "wet" which can lead to severe vision loss. It is the leading cause of blindness in people over 65, will increase from 1.75 million people to almost 3 million people by the year 2020, according to a study by researchers at Johns Hopkins and in the Eye Diseases Prevalence Research Group.
The diagnosis of macular degeneration is becoming increasingly more common due to patient awareness, physician access, groundbreaking improvements in treatment, and the relentless graying of the population exponentially increases the percentage of the population at risk for this condition. Thus, macular degeneration is a formidable challenge to patients, their doctors, and our society.
Cataracts is a condition that develops in the lens of the eye. They are made from a protein that has altered from its natural state, distorting and eventually prohibiting required light from entering into the retina, the part of the eye that receives light. It is the leading cause of visual loss among adults 55 and older. Eye injuries, certain medications, and diseases such as diabetes and alcoholism can contribute to the cause of cataracts.
Diabetic retinopathy is the most common diabetic eye disease and a leading cause of blindness in American adults. It is caused by changes in the blood vessels of the retina. Diabetic retinopathy has four stages:
1. Mild nonproliferative retinopathy - At this earliest stage, microaneurysms occur. They are small areas of balloon-like swelling in the retina's tiny blood vessels.
2. Moderate nonproliferative retinopathy - As the disease progresses, some blood vessels that nourish the retina are blocked.
3. Severe nonproliferative retinopathy - Many more blood vessels are blocked, depriving several areas of the retina with their blood supply. These areas of the retina send signals to the body to grow new blood vessels for nourishment.
4. Proliferative retinopathy - At this advanced stage, the signals sent by the retina for nourishment trigger the growth of new blood vessels. This condition is known as proliferative retinopathy. These new blood vessels are abnormal and fragile. They grow along the retina and along the surface of the clear, vitreous gel that fills the inside of the eye. If they leak blood, severe vision loss and even blindness can result.
Glaucoma is not a single disease entity but a group of conditions characterized by damage to the optic nerve (detected by pathological cupping of the optic disc), and loss of the field of vision. The two main types are primary open-angle glaucoma and primary angle-closure glaucoma.
The prevalence of chronic glaucoma increases with age. In a major study, 0.6 percent of people aged 60 to 64 had primary open-angle glaucoma. Among people who were ten years older, the prevalence had more than doubled to 1.3 percent, and among those who were aged 80 to 84, it had more than doubled again to 3 percent.
If you are providing care for a person with low vision the following is a list of suggestions to improve in- home safety and quality of life.
• Check lighting in the home and ensure the space is adequately lit
• Keep eyeglass or contact lens prescriptions up-to-date and have regular eye exams
• Adjust carpets and furniture to avoid potential hazards
• Take advantage of low-vision aids and adaptive technologies such as video enlargement systems, large print items and speech software for computer systems, which can help people with impaired vision make the best use of their remaining vision
• For those with macular degeneration - Check the vision in each eye using an Amsler grid every day or as often as the doctor recommends. If any of the lines on the grid change or begin to appear wavy and curved, or if you notice that your vision is getting worse, contact an ophthalmologist.