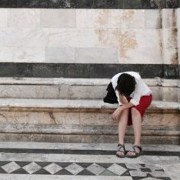 Photo: Getty Images
According to the National Institute of Arthritis and Musculoskeletal and Skin Diseases (NIAMS), medical experts believe more than five million Americans are affected by fibromyalgia (FM). Women make up approximately 80-90 percent of the FM cases. The remaining percent of the cases are children and men. Also, a majority of FM cases are diagnosed during middle-age.
FM is a chronic disease which may last your lifetime. However, FM is not fatal. FM can also mask itself as several other diseases. FM is not progressive and your condition will not deteriorate over time. Many people with FM manage their condition with great success and their symptoms improve.
Symptoms of FM include:
• Chronic pain
• Chronic fatigue
• Sensitivity to loud noises or bright lights
• "Fibro Fog" (cognitive and memory problems)
• Morning stiffness
• Irritable bowel syndrome
• Restless legs syndrome
• Temperature sensitivity
• Sleep disturbances
• Headaches
• Painful menstrual periods
• Numbness or tingling of the extremities
Some of the above symptoms sound like standard aging aches and pains. However, with fibromyalgia, you will have many of the above issues. The NIAMS says fibromyalgia is a syndrome versus a disease. A syndrome consists of many medical issues and symptoms simultaneously.
NIAMS states, "A doctor familiar with fibromyalgia, however, can make a diagnosis based on criteria established by the American College of Rheumatology (ACR): a history of widespread pain lasting more than 3 months, and the presence of diffuse tenderness." In order for a diagnosis to be established, you must a have pain in 11 areas of the 18 ACR assigned areas.
It is unknown what causes fibromyalgia. For some fibromyalgia symptoms may occur overnight and for others the symptoms occur over a period of time. Some have said their symptoms occurred after a traumatic incident like a death or accident.
People who have family members with fibromyalgia are also likely to develop the disease. Individuals with spinal arthritis and lupus (SLE) may develop fibromyalgia.
Currently, the U.S. Food and Drug Administration (FDA) have only approved three drugs for the treatment of fibromyalgia. Those medications include:
• pregabalin (Lyrica)
• duloxetine (Cymbalta)
• milnacipran (Savella)
Many patients choose to treat FM with natural and holistic approaches. According to the National Fibromyalgia Association (NFA) some of those approaches include:
• Visiting a chiropractor to manage chronic pain
• Cognitive therapy
• Stress management class
• Yoga or Tai Chi for relaxation and stretching
• Increasing omega-3 fatty acids
• Decreasing saturated fats
• Decreasing caffeine intake
• 300-600 mg of magnesium per day
• Vitamin B
To learn more about fibromyalgia, we have provided the following resources:
Arthritis Foundation
http://www.arthritis.org
American College of Rheumatology (ACR)
http://www.rheumatology.org
Advocates for Fibromyalgia Funding, Treatment, Education, and Research
http://www.affter.org
National Center for Complementary and Alternative Medicine -National Institutes of Health
http://nccam.nih.gov
Fibromyalgia Network
http://www.fmnetnews.com
National Fibromyalgia Association
http://www.fmaware.org
National Fibromyalgia Partnership, Inc. (also available in Spanish)
http://www.fmpartnership.org
Sources:
Q&A Fibromyalgia . Arthritis, Musculoskeletal and Skin Diseases Home Page. Retrieved September 2, 2011, from http://www.niams.nih.gov/Health_Info/Fibromyalgia/default.asp
Fibromyalgia - PubMed Health. National Center for Biotechnology Information. Retrieved September 2, 2011, from http://www.ncbi.nlm.nih.gov/pubmedhealth/PMH0001463/
Fibromyalgia AWARE - Spring 2010. Online Magazine Digital Magazine E Magazine Publishing Nxtbook. Retrieved September 2, 2011, from http://www.nxtbook.com/nxtbooks/fma/fibromyalgiaaware_2010spring/index.php#/22
Reviewed September 2, 2011
by Michele Blacksberg R.N.
Edited by Jody Smith