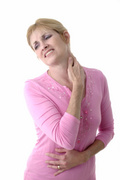 Fibromyalgia is a chronic medical disorder characterized by extensive pain and diminished pain threshold. Moreover, these individuals are extremely sensitive to minor pain and often develop pain from stimuli that do not generally cause pain. Other associated clinical features include extreme fatigue, anxiety, depression, sleep disturbances, headache, alterations in bowel habits, migraine, abdominal cramps, and urinary frequency.
The true incidence of fibromyalgia in America is not known because many individuals remain under diagnosed. Clinical reports indicate that about 2% of women and 0.5% of men are affected. Although the cause of fibromyalgia remains a mystery, it does share a few clinical features with both irritable bowel syndrome and chronic fatigue syndrome.
Recently, a multidisciplinary task force of experts from several European countries reviewed the literature and presented recommendations for its management. The therapies recommended included customized exercise programs; cognitive-behavioral therapy; hydrotherapy; stress relaxation; physical rehabilitation; and drug therapy with tricyclic antidepressants, SNRIs, pregabalin and gabapentin.
These authors also looked at many drug and non-drug therapies. Although pregabalin is the only FDA approved treatment for fibromyalgia, they discovered that this medication often did not work and other medications were frequently substituted instead. Overall, the study concluded that no single agent or class of drugs is widely effective for fibromyalgia.
Because conventional medical therapy has been disappointing in treatment of fibromyalgia, many people have been turning towards complimentary alternative care. Fibromyalgia is more likely to be self-treated with such alternative care therapies than other rheumatological disorder. There are many types of alternative care therapies for fibromyalgia including prayer, massage, chiropractic treatment, vitamins, and minerals like magnesium. Other very popular therapies for fibromyalgia include mind-body techniques (biofeedback, hypnosis, and cognitive-behavioral therapy), manipulative therapies (chiropractic and massage therapy), and acupuncture. For each of these therapies there have been positive and negative reports published.
Overall, it appears that evidence of a significant beneficial effect of any of these therapies for fibromyalgia is still lacking. Moreover, these experts cautioned against the use of homeopathic treatment like ginkgo biloba, anthocyanins, Coenzyme Q and topical capsaicin. There have been very few well-conducted studies on these substances. Moreover, reports of contamination or counterfeit products continue to flood the health supplement industry.
Of all the therapies for fibromyalgia, only moderate exercise has been shown as having a consistent beneficial effect. Thus, exercise of any type is highly recommended for fibromyalgia–Moreover this therapy is free, devoid of side effects and is good for overall health.
Tags: