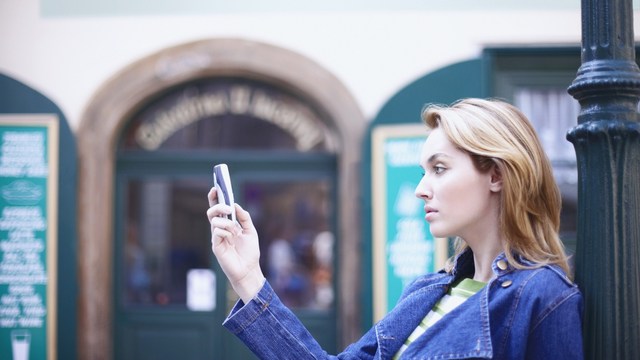 PS Productions/PhotoSpin
Remember when telephones only had one purpose? Not that long ago, we just used them to make phone calls. Well, these days our cell phones can do a lot more than that.
Now we even have phones that can help track our moods and provide assistance for mental health issues. And more advanced applications (apps) for smartphones are being created that will help diagnose and treat mental illnesses.
Here are five promising smartphone apps to watch for that are currently being developed:
1) Researchers at Tel Aviv University are working on an app or system that will detect "changes in patients' behavioral patterns, and then transmits them to professionals in real time," according to a news release.
Clinical psychiatrists can monitor their patients' behavior and respond to any major changes when necessary. This will allow their response time to be faster, and they'll get better insight into how their patients are feeling.
During two clinical trials, the app was used on smartphones of patients with mental disorders and on smartphones of healthy participants.
The app uses data from the actual smartphone, including how many calls and texts were made, and records when participants went to bed and how many places they visited. Changes in these areas could indicate a problem.
2) Another app is being developed to help monitor patients as well. According to a news release, Australia's Monash University is working to create this new app with RMIT University along with beyondblue, a nonprofit organization that works to increase awareness of anxiety and depression.
Social media is a big part of this app, which will be used to help "prevent relapse in a person living with mental illness," according to the news release.
The app will be associated with Facebook, and as part of a pilot study researchers will analyze participants' social media interactions in order to hopefully predict any potential future relapses, specifically for people diagnosed with bipolar disorder.
Paul Fitzgerald, the deputy director of the Monash Alfred Psychiatry Centre (MAPrc), said in a press release that the app would look at data such as Facebook likes, posts and friend requests. The app will also ask the participant to disclose their daily mood.
Any changes that suggest mental illness relapse would be sent to a doctor or mental health professional so they can assist the patient.
3) If you're always stressed, there could be an app available for your use soon. Dr. Joel Ehrenkranz, director of diabetes and endocrinology at Intermountain Healthcare in Murray, Utah, is the lead investigator for the research behind an app that will soon be able to measure levels of the stress hormone cortisol, according to Reuters.
Ehrenkranz is joined in his research by Dr. Randall Polson, senior optical engineer at the College of Engineering at the University of Utah.
The app on a smart phone would come as a kit to be used in conjunction with a tube, case and a saliva sample. The app is intended to cost less than $5 and will provide results under 10 minutes, compared to the standard lab cost of approximately $50, which takes about a week to get back to a patient.
Besides testing how stressed you are, excessive or low cortisol levels could indicate different health problems, such as Cushing's disease or even depression. The idea is to get this technology in the hands of individual consumers and patients so everyone has a better chance of managing and monitoring their own health.
4) Patients with schizophrenia could receive more help with monitoring their condition with two new apps under development by Dartmouth College. This was published in IEEE Spectrum, a magazine of the professional association IEEE which is associated with technological innovation.
The first app, called CrossCheck, will analyze a variety of data to determine if a patient is heading toward relapse, and will promptly notify a mental health professional.
Data that will be collected will include the location of the patient using GPS, the speed at which the patient is walking, the length and frequency of phone calls, and sleep patterns determined by inactivity and light and sound sensors.
Patients will also be asked to fill out a questionnaire once a week to check their symptoms and mood.
5) An app called FOCUS is also being developed for patients with schizophrenia. This app will be used as a tool for active mental illness management by patients with categories such as "medication," "voices" and "social." Patients will be able to get help after answering some questions. They'll be given advice or positive reinforcement.
Sources:
Tel Aviv University. Smartphone App May Revolutionize Mental Health Treatment. Web. July 9, 2014.
http://www.aftau.org/newsroom?013b74fd-3866-4d2c-b79d-6a8b5afe1677
Monash University. Facebook app to predict mental health relapse. Web. July 10, 2014.
http://www.med.monash.edu/news/2014/facebook-app-to-predict-mental-health-relapse.html
Beyondblue. About us. Web. July 10, 2014.
http://www.beyondblue.org.au/about-us
Reuters. Janeczko, Lorraine L. Smartphones allow do-it-yourself stress hormone tests. Web. July 10, 2014.
http://www.reuters.com/article/2014/07/04/us-cortisol-testing-smartphones-idUSKBN0F91R820140704
IEEE Spectrum. Strickland, Eliza. Smartphone App Keeps Watch Over Schizophrenic Patients. Web. July 10, 2014.
http://spectrum.ieee.org/biomedical/diagnostics/smartphone-app-keeps-watch-over-schizophrenic-patients
IEEE. About IEEE. Web. July 10, 2014.
http://www.ieee.org/about/index.html
Reviewed July 11, 2014
by Michele Blacksberg RN
Edited by Jody Smith