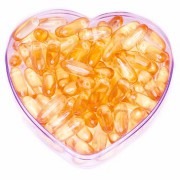 Photo: Getty Images
Chances are you are taking fish oil or something that has omega-3 in it for your health. Did you know that the type of fish oil you use can make a big difference? It's true! Researchers from the November 2010 European Journal of Clinical Nutrition discovered that the omega-3 status in a person increased more when taking the triglyceride form instead of the ethyl ester form.
Specifically, after six months of supplementing with EPA and DHA triglyceride form, the index rose 197 percent versus 171 percent in ethyl ester supplements.
This is important to take into consideration when buying your next bottle of oil. It's also important to look at the purity of the fish oil by making sure it's tested for rancidity, pesticides, herbicides, and heavy metals. If you are unsure of your purity, look it up online or call the company and ask. Smelling your fish oil is also helpful. If you open the bottle and it stinks, or you cut open a gel cap and the oil smells like bad fish then your bottle is bad. Throw it out.
Also make sure you're getting enough EPA and DHA when reading the label. I recommend at least 600mg of EPA and at least 300mg of DHA. When reading your label, if it says you're getting 1000mg of total fish oil, add up the EPA and DHA. If you're only getting 250mg of EPA and 150mg of DHA, then what is in the rest of the oil?
Fish oil and omega-3 fatty acids are so beneficial to heart disease (blood pressure, blood sugar, high cholesterol and high triglycerides), skin conditions (dry skin, eczema, psoriasis), mood problems, hormone balance, joint complaints, eye health, and during pregnancy.
Some companies claim to have "no burp" fish oil and even with the best intentions you will still burp them up. I suggest putting the bottle in the refrigerator and take them at night before bed so you sleep through any negative side effects.
The amount you need depends on your specific concerns. Talk with your health care provider about your symptoms because a basic dosage of 1,000mg for general health and 3,000mg for high triglycerides are very different.
Many ask if you can eat your way to enough fish oil and my common response is, "not really." First of all, the best fish are the deep cold water fish like salmon or anchovies. If you eat salmon, make sure it's wild-caught from the Pacific Northwest like Oregon or Alaska. Even then, I still recommend regular supplementation to get the full EPA and DHA dose.