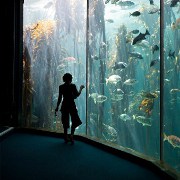 Photo: Getty Images
Millions of people consume mega-doses of fish oil everyday. There is a very strong belief among the public that this food supplement is the "Holy Grail." The exact number of people who buy fish oil supplements is not known but it is a billion dollar industry.
Fish oil supplements are available almost everywhere. While most supplements are available in health food stores, today one can buy these supplements from retail grocery stores, pharmacies, online and in almost any alternative health care store. There are even some doctors who market their own formulas of fish oil supplements.
Now there is Consumers Report, which claims that not all fish oil supplements are equal. The agency analyzed 15 major brands of fish oil supplements and six fell significantly short on quality. The six supplements, which did not meet the standards, were found to be impure.
This type of impurity has been suspected for some time and is not only limited to fish oil supplements. Experts indicate that the problem is more wide spread because much of the health food supplement industry remains unregulated.
There is no doubt that when the right fish oil supplements containing omega-3 fatty acids are consumed on a regular basis, they may reduce the risk of heart disease and stroke.
The Consumer Reports evaluated three lots of 15 brands to determine if they contained the right amount of omega-3 fatty acids. In addition, they also checked for impurities like levels of PCB, dioxins, lead and mercury.
While the products did meet the labeled amount of omega-3 fatty acids, some products did contain traces of contaminant, which did not exceed standard sets by the US pharmacopeia. In simple words, the supplements did meet all the applicable legal and regulatory requirements.
However, when one looks in depth at each of the supplements in question, four of the products contained PCB, with levels that could immediately require a warning label under California's tough consumer laws. Another product contained "high levels of compounds" that indicated spoilage of the supplement.
wo other samples failed were found to have defective coating, suggesting that the supplement may prematurely dissolve very rapidly in the mouth and leave an undesirable fishy after taste.
So far the FDA has not undertaken any action against any manufacturer because the contaminants do not seem to be a health risk. The study was more intended to let consumers know what is in the products -- which is a requirement in the state of California and has nothing to do with health risk.
The final word? Consumers should be careful where they buy their health supplement pills. While online food stores may appear cheap, you never know what you are getting. To play it safe, always buy your prescriptions and health supplements from bona fide stores with a good reputation.
Source:
1. Fish-oil pills vs. claims. Consumer Reports. Web. 7, Dec. 2011.
Abstract: http://www.consumerreports.org/cro/2012/01/fish-oil-pills-vs-claims/index.htm
2. Jacobs MN et al. Time trend investigation of PCBs, PBDEs, and organochlorine pesticides in selected n-3 polyunsaturated fatty acid rich dietary fish oil and vegetable oil supplements; nutritional relevance for human essential n-3 fatty acid requirements.
Abstract: http://www.ncbi.nlm.nih.gov/pubmed/15030246
Reviewed December 7, 2011
by Michele Blacksberg RN
Edited by Jody Smith
Tags: