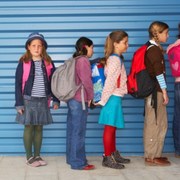 Photo: Getty Images
Up until recently, testing a child's cholesterol levels was very unusual and only done if there were obvious signs that testing was warranted or if there was a family history of early high cholesterol.
But due to the alarming increase in overweight and obese children in America, conditions like type 2 diabetes and high cholesterol are being tested for in young patients.
The American Academy of Pediatrics is endorsing new recommendations by a panel that was subsidized by the U.S. National Heart, Lung, and Blood Institute. The panel has suggested that all children have their cholesterol levels tested starting between the ages of nine and 11 years.
Children with a family history of heart disease at an early age are encouraged to get tested much younger -- some as soon as age two. Unlike with adults, tests for children would not necessitate fasting.
According to an EmpowHER article, an earlier study "published in the journal Pediatrics, doesn't advocate for or against screening, which some experts say is unwarranted and might do more harm than good. But it does find that fasting produced only minuscule differences in cholesterol test results compared to tests done when kids had recently eaten a meal.
"When compared to the burden and cost of return visits, and increased anxiety about returning for a blood draw, I think the difference is negligible," Dr. Michael Steiner, who worked on the study, told Reuters Health. "It's very hard for kids to fast."
One in five American children have abnormal levels of cholesterol in their bodies -- much of it attributed to obesity. One in every three children is either overweight or obese.
The best way to avoid juvenile health problems like this is a healthy diet and regular exercise. Key to this are the parents. Pediatricians are encouraged to talk to parents about their children's diets and the level of daily activity they get. Medication (like statins) is the last resort, with most doctors believing they should only be necessary in extreme cases.
For more information on how to keep your child's cholesterol levels healthy, click here: https://www.empowher.com/media/reference/kids-and-cholesterol-keeping-ch...
SOURCES:
Health.com. New Guidelines Urge Cholesterol Check for All Kids Ages 9 to 11. Web. Nov 14, 2011.
http://news.health.com/2011/11/11/new-guidelines-urge-cholesterol-check-...
EmpowHER.com. No need to fast before kids' cholesterol screening. Web. Nov 14, 2011.
https://www.empowher.com/high-cholesterol/content/no-need-fast-kids-chol...
Review November 15, 2011
by Michele Blacksberg RN
Edited by Jody Smith