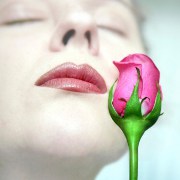 Photo: Getty Images
Do you ever have those days when you're feeling a little down and you're not sure why? Or maybe you do know why, but you don't know how to fix it? Sometimes, just taking a sniff of a certain scent can cheer you up.
Kate Fox, Director of Social Issues Research Centre, said in The Smell Report, "The thought of pleasant fragrances may be enough to make us a bit more cheerful, but the actual smell can have dramatic effects in improving our mood and sense of well-being."
Here are six scents that are proven to lift your mood:
1. Stop and smell the roses - in a recent study, when researchers asked volunteers to write about three life events, the subjects who were in the floral scented room wrote about more positive events than those in rooms that were filled with the aroma of baby powder, Chanel No. 5, or no scent at all.

2. Spritz of citrus - although no large studies have been conducted, it is said that the smell of orange, grapefruit, or lemon can help lift the moods of those who experience cabin fever during the winter months. The winter doldrums are no joke in regions that have long stretches of gray, gloomy days. Physicians report many more cases of seasonal affective disorder (SAD) during the months of November to April. Check out your favorite supermarket or aromatherapy shop for the scent of citrus to lift your spirits during those months.
3. Twist of peppermint - it's been proven that the smell of peppermint can relieve headache pain and can also boost the mood.
 Aromatherapists suggest placing a dab peppermint oil on temples to feel the full mood-lifting effects. Be careful not to get near eyes on in the mouth.
4. Love of lavender -while the scent of lavender is primarily known for its calming effects, the lovely aroma can also be used for lifting depression. Place some lavender soap around the house or burn a scented candle near your favorite resting spot and inhale the gentle aroma.
5. Scent of the sea - when researchers diffused the fragrance of seawater into a dance club, the patrons reported an overall better clubbing experience than those in the club with no aromas added to the air. Many people claim that sitting by the ocean and breathing in the salty air just plain puts them in a better mood. 

6. Warmth of vanilla - medical experts have discovered that the scent of vanilla reduces stress and anxiety and also tends bring on happy childhood memories. Retailers caught on to this theory when everything from vanilla-scented body mist to aromatherapy candles hit the shelves years ago. Find vanilla scented products wherever bath and body products are sold.
Next time you are having a down day or mood swing, light a scented candle or burn some essential oils with these aromas and you may feel better before you know it.
http://www.livescience.com/14635-impression-smell-thoughts-behavior-flowers.html
http://www.livescience.com/14496-smell-lures-dancers-nightclubs.html
http://www.suite101.com/content/how-citrus-scents-lifts-moods-a50223
http://www.sirc.org/publik/smell_emotion.html
Reviewed June 27, 2011
Edited by Alison Stanton
Tags: