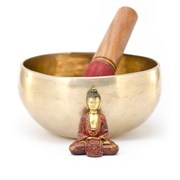 Photo: Getty Images
The world is filled with a variety of sounds. While some noises may produce joy and happiness, others may generate contrasting emotions such as sadness and anger.
The impact of sound is powerful and affects multiple areas of everyday life. Noise can even affect one's health and well-being. Studies show that sound can be used as a tool to help improve disease and various medical issues.
Sound therapy is a form of holistic health used around the world to help fight health conditions. According to karinya.com, sound therapy practitioners use different sounds from objects, music and voice to reduce symptoms of disease such as pain, mental illness and more.
Common conditions treated by sound therapy include mental health, Alzheimer's disease, stress, arthritis, injures, headaches and Parkinson's disease.
The use of sound therapy can be traced back thousands of years to areas of ancient Asia including Tibet, India and the Himalaya Mountains. Tibetan monks learned that chanting could be used to heal others, karinya.com said.
Himalayan singing bowls were another common tool used throughout Asia for relaxation, the article "Sound Therapy" on Guardian.co.uk said.
Sound therapy is based on the belief that all objects in the world have a vibration and each vibration holds a different frequency. When all parts of the human body produce synchronized vibration frequencies, a person is healthy and balanced, Massagetherapy.com said.
However, when frequencies are not in harmony, disease and illness occur.
Sound therapy also focuses on the concepts of human energies and auras. Chakras or energy centers are "openings through which the universal life energies are drawn into the body and flow through the entire body, including cells and tissues and organs," the S.G. Asnani Foundation said.
The energy centers interact with other parts of the body, and each center creates a different vibration frequency, color and sound.
According to the S.G. Asnani Foundation, when energy moves smoothly through the chakras, the human aura is revealed in all colors of the rainbow.
However, when the flow of energy is imbalanced, the colors are dull or some shades are missing. When this occurs, it is a signal that the human body is suffering from a health condition.
Although energies may not flow smoothly through the human body at times, the blockage and illness can be improved or cured through sound therapy. Sound therapists "use sound frequencies to interact with [energy frequencies], thus attempting to rebalance the body's energy," Guardian.co.uk said.
Besides treating physical medical conditions, sound therapy can also help emotional or mental issues such as stress, anxiety, a cluttered mind, anger and depression. Sound therapists use different noises to treat patients, depending on their condition.
Resources:
Sound Healing. Massagetherapy.com. Web. 22 Jan. 2012. http://www.massagetherapy.com/articles/index.php/article_id/408/Sound-He...
Sound therapy. The Guardian. Web. 21 Jan. 2012. http://www.guardian.co.uk/lifeandstyle/2008/jul/06/healthandwellbeing5
Sound Therapy. Karinya. Web. 21 Jan. 2012.
http://karinya.com/sound1.htm
Sound Therapy. S.G. Asnani Foundation. Web. 22 Jan. 2012. http://www.sgafsoundtherapy.org/sound/index.html
Reviewed January 26, 2012
by Michele Blacksberg RN
Edited by Jody Smith