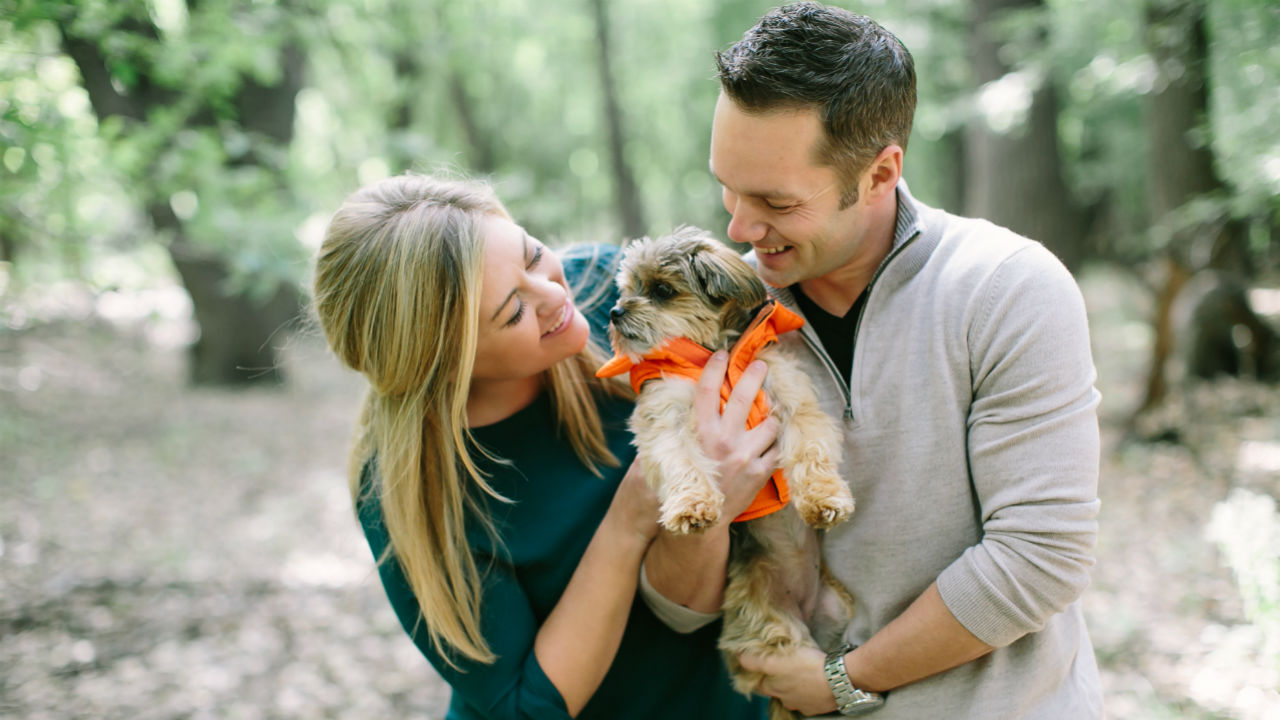 Courtesy of Chelsea Ritchie
Our story started off like many. We met, we fell in love, we got married, we wanted to start a family. But that's when our story took on a new path, one that 1 in 8 couples1 venture down, and soon, we found ourselves living in a reality we never anticipated.
My husband Josh and I married young, retrospectively. He was 21 and I was 19. For some reason our young ages were of no concern to the abundance of family and friends surrounding us. They supported us and we joyfully walked into a marriage that was and continues to be blessed with love, laughter, faith and unity.
A few years into our marriage, we had the conversation many couple have: "When should we start our family?"
Trying for baby
I had struggled with irregular periods, but didn't think much of it. After trying for a year, it was obvious something wasn't right. I ventured to the OB/GYN to talk with my doctor about our desire to start a family when I was quickly diagnosed with "a textbook case" of polycystic ovary syndrome (PCOS), a disease that affects your hormones, ovulation and insulin. I was put on a medication that could potentially help and was told to come back in a year if we still hadn't conceived. That year quickly passed and we found ourselves in the same place, trying for something that wasn't happening.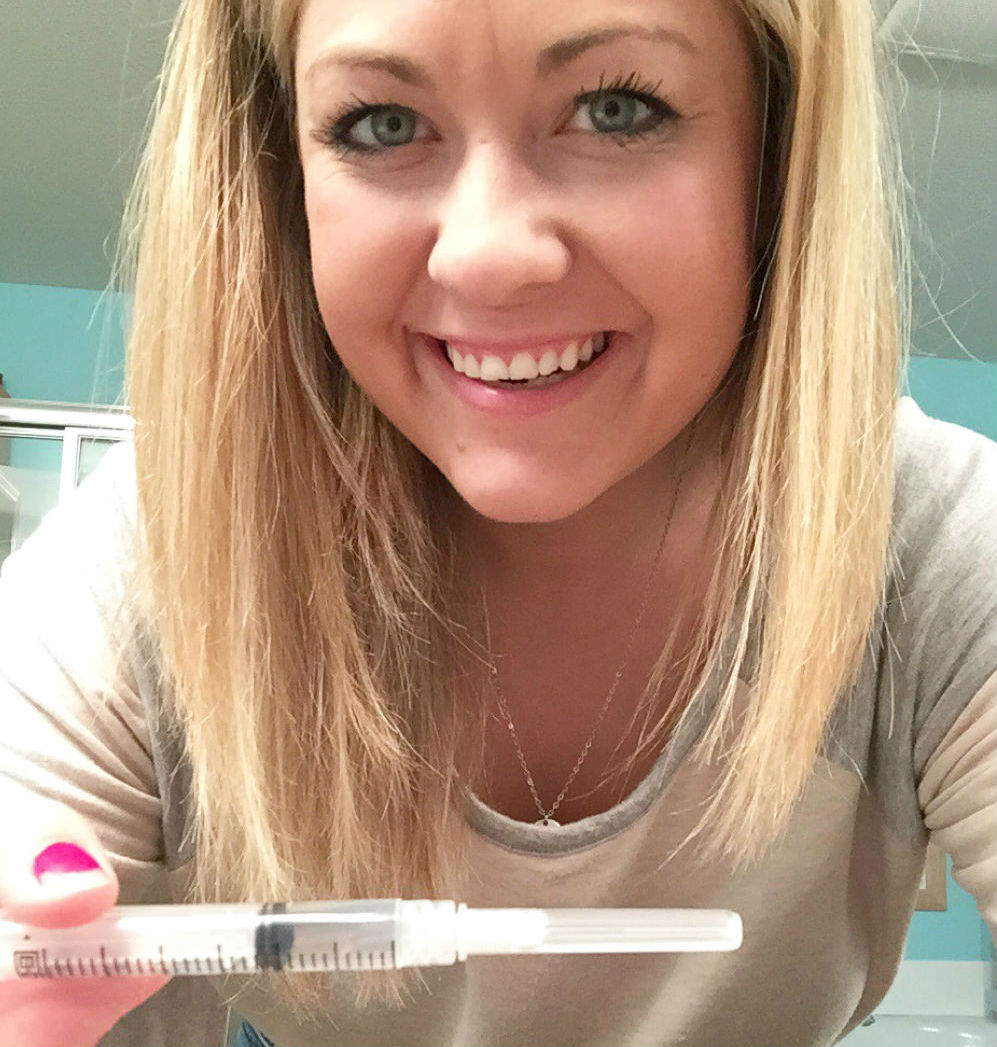 What Infertility Looks Like: Lots of shots! A good attitude makes it much easier!
It was at this point we saw the need get more aggressive with our treatment. Our hearts still desperately wanted children and we didn't feel called to adopt. We ran more tests and began doing monitored, medicated cycles. After a disappointing six months, it was clear that the new medication wasn't working for us and we ran out of options with our OB/GYN. We were then referred to a fertility doctor, known as a reproductive endocrinologist (RE).
Our RE was so helpful, explaining more about PCOS and how we could fight this disease. We began a new medication, paired with intrauterine insemination (IUI); however, all four cycles of this failed.
Our hearts were heavy at this point. We had been married for 7 years, four of which we were attempting to start a family. After prayer and conversation, we decided that we would try in vitro fertilization (IVF). Our first cycle resulted in a pregnancy! We celebrated this wonderful news with our families on Christmas Day, only to begin to miscarry later that evening.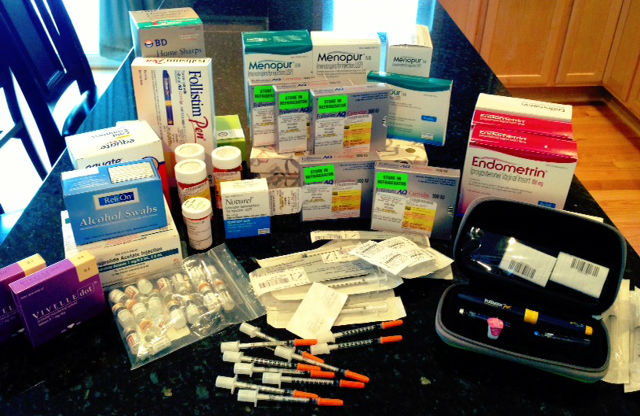 What Infertility Looks Like: Medications for one round of IVF. All worth it!
Our hearts were broken, but after some time spent healing, it was evident our spirits were not. We tried IVF again, this time, with no success. Because we had frozen embryos available, we were able to do two frozen embryo cycles, one resulted in a pregnancy, and then a miscarriage, and the other did not.
One tiring year filled with injections, surgeries, miscarriages, joy, devastation, and confusion. We dreamed of becoming parents but the obstacles seemed too overwhelming.
After a year of working on physical, mental and spiritual health, we sought the counsel of a new RE, where we learned of a blood clotting condition I have called factor V. Knowing this, we thought it was possible to treat it while taking a step back in treatment intensity and going back to medicated cycles with IUI. We were right. Another pregnancy! But with it, another miscarriage.
Remember, you are not alone
Our story has been hard and many of you reading today have had your own hard story with infertility. Perhaps your partner suffers with male infertility. Maybe you have painful endometriosis, requiring brutal surgeries. You too could have suffered a miscarriage, or two, or five.
You understand greatly the desire to have children, the pain involved when you can't and the late nights wondering if it will ever happen. You know what it feels like to have your dreams constantly hanging over a cliff, wondering if you'll ever snatch them back or if you'll have to watch them fall away forever.
I understand. I understand everyone's stories are different. Maybe you have never struggled with infertility, but supported someone who has. Maybe you have walked this path yourself and understand the tears shed. Friend, you are not alone.
There are others out there with a similar, unique story as you. They feel similar emotions, walk down similar paths and wonder the same questions. Don't be afraid to let others into your world. It doesn't need to be a deep, poignant post on Facebook, although it could be.
It may be something as vulnerably easy as telling a girlfriend or a family member. The conversation can start as simply as, "What I am about to tell you is really hard because it's a tender, sensitive subject. I am just going to ask you to listen and be supportive …"
Far too many people suffer with infertility silently, with no support, awkwardly avoiding the taboo subject, yet aching with every baby shower attended, pregnancy announcement seen and holiday passed. I have a feeling that we can create a domino effect of support as a result of your bravery to break the silence.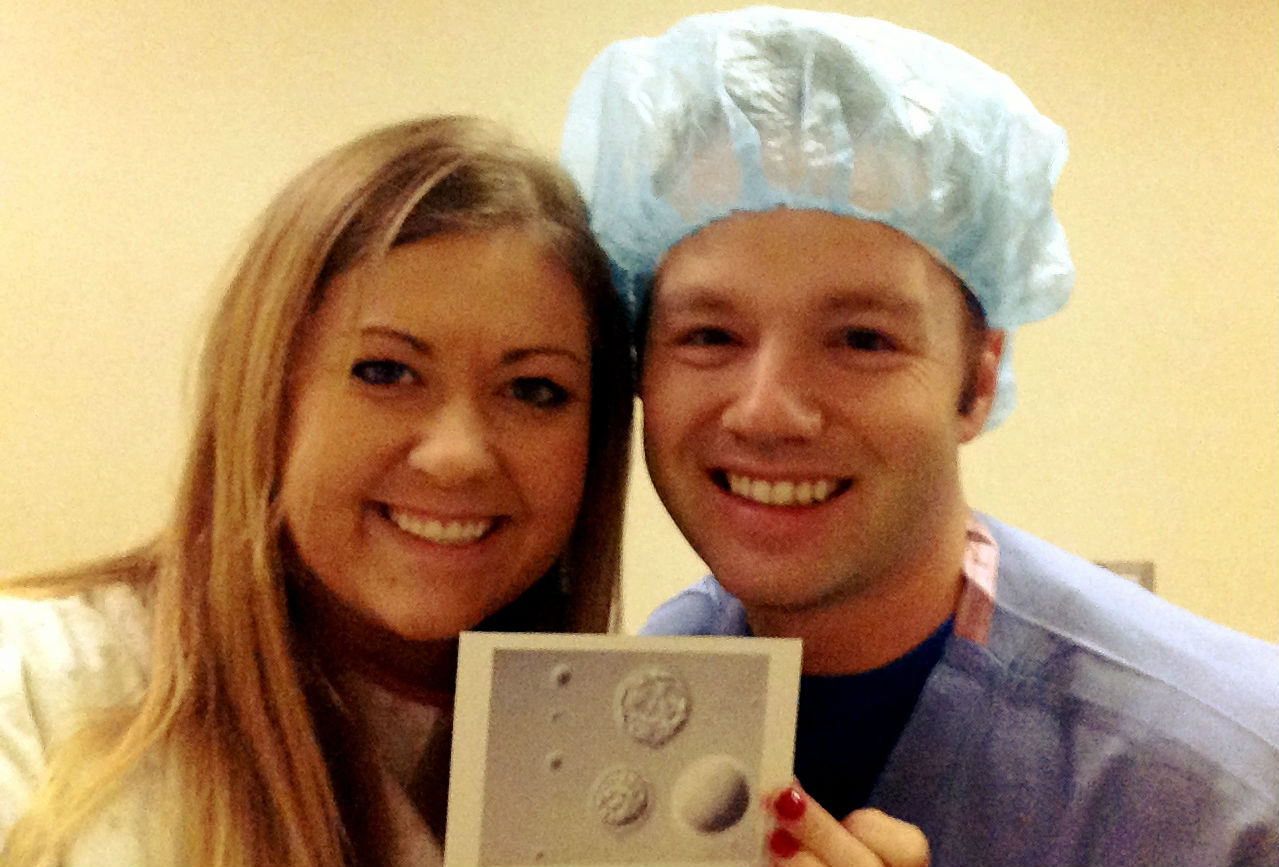 Proud Parents! Josh and I with a picture of two of our embryos post transfer.
My husband and I are midst of one last IVF cycle. We have transferred to a well-known, highly reputable clinic and have taken all we have learned up until this point to make some significant changes to our treatment plan. I believe that even in the waiting, even in the struggles of infertility, we are never really alone. Perhaps, like us, you cling to your faith, or maybe it's a community around you. But regardless, our stories make life worth living and develop strength we never knew possible.
Tags: