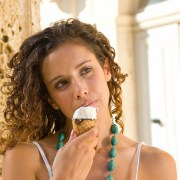 Photo: Getty Images
Do you cringe when someone suggests going out for ice cream? Do you avoid cereal for breakfast at all costs? Have you turned down smoothie after smoothie at the gym? Then there's a good chance, whether you admit it or not, that you're probably lactose intolerant.
According to the Mayo Clinic website, lactose intolerance, alternately called lactase deficiency, "means you aren't able to fully digest the milk sugar (lactose) in dairy products. It's usually not dangerous, but symptoms of lactose intolerance can be uncomfortable."
The website goes on to explain that the real issue for lactose intolerant people is "an enzyme produced by the lining of your small intestine. Many people have low levels of lactase, but most don't experience signs and symptoms. Only people with both low lactase levels who also have associated signs and symptoms have, by definition, lactose intolerance."
The TLC website, HowStuffWorks.com, says 30 to 50 million Americans suffer from a lactose intolerance condition and when they indulge in dairy delights like cheese, cream, and milk can cause gas, bloating, cramping, and an all-around uncomfortable state.
But, the website states, this condition is not necessarily a milk allergy. "One of the most common misconceptions about lactose intolerance is that it is a milk allergy. Though the two are often confused, the difference is a critical one. The inability to completely digest lactose rarely translates into the need for a milk-free diet. But if you have a milk allergy, even minute amounts can trigger a serious reaction.
Symptoms of a true milk allergy include a runny nose, puffy eyes, skin rash, vomiting, tightness in the throat, and difficulty breathing. There is no connection between having a milk allergy, which is due to an immune response to a protein, and having lactose intolerance, which is an enzyme deficiency."
For those who live with lactose intolerance, there are several ways to reduce the chance of feeling the effect of too much dairy. The first thing to do is the obvious one, according to MayoClinic.com, and that is to eat fewer dairy products.
The site also suggests saving milk for mealtimes, experimenting with an assortment of dairy products as they all don't have the same amount of lactose, and consider using a lactose enzyme or dose.
Sources:
Mayoclinic.com. Web. 16, October 2011. "Lactose Intolerance". http://www.mayoclinic.com/health/lactose-intolerance/DS00530
TLC.HowStuffWorks.com. Web. 16, October 2011. "Home Remedies for Lactose Intolerance."
http://tlc.howstuffworks.com/family/home-remedies-for-lactose-intolerance.htm
Reviewed October 18, 2011
by Michele Blacksberg RN
Edited by Jody Smith