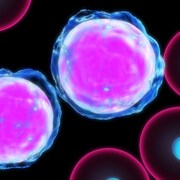 Ingram Publishing/Thinkstock
Two children with an aggressive form of childhood leukemia showed no evidence of the disease after being treated with an experimental cell therapy, a research team from The Children's Hospital of Philadelphia and the University of Pennsylvania confirmed on Monday, March 25, 2013.
The case study of 7-year-old Emily Whitehead comes as encouraging news to those who suffer from a stubborn form of the most common childhood cancer, acute lymphoblastic leukemia (ALL), even suggesting the novel treatment may someday replace the need for chemotherapy and bone marrow transplants.
Emily was featured in news stories in December, 2012. Experimental therapy had led to her dramatic recovery after she relapsed following conventional treatment.
Emily remains healthy and cancer-free nearly a year after receiving bioengineered T cells.
The specialized T cells — white blood cells that mature in the thymus — reprogrammed Emily's immune cells to rapidly multiply and destroy leukemia cells.
The case report was published online ahead of print in The New England Journal of Medicine. It will appear in the April 18, 2013 print issue.
However the researchers said there's a need for more research to improve on the therapies being tested.
Sadly, another patient, a 10-year-old girl who also had a complete response to the same treatment, suffered a fatal relapse two months later when other leukemia cells appeared. Those cells didn't harbor the specific cell receptor targeted by the experimental therapy, according to the case report.
"This study describes how these cells have a potent anticancer effect in children," said co-first author Stephan A. Grupp, M.D., Ph.D., of The Children's Hospital of Philadelphia, where both patients were treated in this clinical trial.
"However, we also learned that in some patients with ALL, we will need to further modify the treatment to target other molecules on the surface of leukemia cells."
After decades of research, oncologists can currently cure 85 percent of children with ALL. Both children in the current study had a high-risk type of ALL that stubbornly resists conventional treatments.
The new study used a relatively new approach in cancer treatment called immunotherapy, which uses the patients own T cells or those implanted from donor umbilical cord stem cells to manipulate the immune system, thereby increasing its cancer-fighting capabilities.
Researchers engineered the T cells to selectively kill another type of immune cell called B cells, which had become cancerous.
Grupp and his colleagues builds on knowledge from his ongoing collaboration with Penn Medicine scientists who originally developed the modified T cells as a treatment for B cell leukemias.
The Penn team reported on early successful results of a trial using this cell therapy in three adult chronic lymphocytic leukemia (CLL) patients in August of 2011.
Two of those patients remain in remission more than 2½ years following their treatment, and as the Penn researchers reported in December, 2012 at the annual meeting of the American Society of Hematology, 7 out of 10 adult patients treated at that point responded to the therapy.
"We're hopeful that our efforts to treat patients with these personalized cellular therapies will reduce or even replace the need for bone marrow transplants, which carry a high mortality risk and require long hospitalizations," said Carl H. June, M.D, who led the Penn team and is the new study's senior author.
"In the long run, if the treatment is effective in these late-stage patients, we would like to explore using it up front, and perhaps arrive at a point where leukemia can be treated without chemotherapy," he added.
Grupp is the director of Translational Research for the Center for Childhood Cancer Research at The Children's Hospital of Philadelphia, and a professor of Pediatrics at the Perelman School of Medicine at the University of Pennsylvania. In a statement he said that the initial results with this immune-based approach are encouraging, and may later even be developed into treatments for other types of cancer.
June is the Richard W. Vague Professor in Immunotherapy in the department of Pathology and Laboratory Medicine and the Perelman School of Medicine at the University of Pennsylvania and director of Translational Research in Penn's Abramson Cancer Center.
Michael Kalos, Ph.D., an adjunct associate professor in the department of Pathology and Laboratory Medicine in the Perelman School of Medicine at Penn, is co-first author on the study.
The research was supported by grants from National Institutes of Health, the Leukemia and Lymphoma Society, and the Alliance for Cancer Gene Therapy.
Lynette Summerill is an award-winning writer and Scuba enthusiast who lives in San Diego with her husband and two beach loving dogs. In addition to writing about cancer-related issues for EmpowHER, her work has been seen in publications around the world.
Sources:
Grupp, M.D. Stephan A. et al. "Chimeric Antigen Receptor–Modified T Cells for Acute Lymphoid Leukemia", Published online March 25, 2013DOI: 10.1056/NEJMoa1215134
http://www.nejm.org/doi/full/10.1056/NEJMoa1215134?query=featured_home and
"T-cell therapy eradicates an aggressive leukemia in 2 children" Holly Auer. University of Pennsylvania press release. 25 March, 2013.
http://www.uphs.upenn.edu/news/News_Releases/2013/03/grupp
Reviewed March 26, 2013
by Michele Blacksberg RN
Edited by Jody Smith