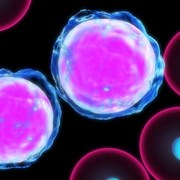 Photo: Getty Images
Leukemia is classified by how quickly it progresses (chronic or acute) and according to the type of white blood cell that multiplies. When trying to classify the type of leukemia present, doctors check whether it is immune system cells that are multiplying (lymphocytes), bacteria-destroying cells (granulocytes) or macrophage-forming cells (monocytes).
If the abnormal white blood cells are primarily granulocytes or monocytes, the leukemia is categorized as myelogenous, or myeloid, leukemia. If the abnormal blood cells arise from bone marrow lymphocytes, the cancer is called lymphocytic leukemia.
Acute leukemia grows rapidly. It can overrun the body within a few weeks or months. Chronic leukemia, however, is slow-growing and progressively worsens over the years.
Children often develop acute forms of leukemia, which are managed differently than leukemia in adults. Leukemia in childhood presents a set of challenges, because acute leukemia spreads quickly, treatment must be immediate.
In chronic leukemia, the blood-forming cells eventually mature, or differentiate but they are not "normal." They remain in the bloodstream much longer than normal white blood cells and they are unable to combat infection well.
There are four types of leukemia that occur most frequently. These classifications are based upon whether the leukemia is acute versus chronic and myelogenous versus lymphocytic.
The four types are:
* Acute Myelogenous (granulocytic) Leukemia (AML)
* Chronic Myelogenous (granulocytic) Leukemia (CML)
* Acute Lymphocytic (lymphoblastic) Leukemia (AL)
* Chronic Lymphocytic Leukemia (CLL)
The most common form of adult leukemia, affecting mostly men diagnosed at near age 65, is acute myelogenous leukemia (AML)—also known as acute nonlymphocytic leukemia (ANLL). Due to recent positive developments in treatment techniques, AML can be kept in remission (lessening of the disease) in approximately 60 to 70 percent of adults who undergo appropriate therapy. The overall cure rates are somewhere in the 40 to 50 percent range.
In acute leukemia cases such as AML, a categorization system is used, which is known as French-American-British (FAB) classification. FAB divides AML into eight subtypes and in-depth descriptions of these can be found with further research by using the sources listed at the end of this article.
Chronic myelogenous leukemia (CML) is known as a myeloproliferative disorder — that is, it is a disease in which bone marrow cells multiply outside of the bone marrow tissue.
CML has a genetic marker or peculiarity that makes it somewhat easy to diagnose. However, while CML is easy to diagnose, it is not easy to treat. It is not yet curable by standard methods of chemotherapy or immunotherapy. Older people tend to get CML. This leukemia is rare in young people. Only 2 to 3 percent of childhood leukemias are CML.
Early disease is often without symptoms (asymptomatic) and is discovered accidentally. Individuals with more advanced cases of CML may appear sickly and experience fevers, easy bruising and bone pain. Like other forms of leukemia, CML is not "staged," rather, this unstable disease is categorized according to the three phases of its development: chronic, accelerated, and blast. It's crucial to treat CML because untreated, it's fatal in roughly 20 percent of all patients each year.
Sources:
HealthCommunities.com. Leukemia Types, Acute Myelogenous Leukemia (AML), Chronic Myelogenous Leukemia (CML). Retrieved from the internet on November 13, 2011.
http://www.healthcommunities.com/leukemia/types.shtml
WebMD. Leukemia Topic Overview. Retrieved from the internet on November 13, 2011.
http://www.webmd.com/cancer/tc/leukemia-topic-overview
Aimee Boyle is a regular contributor to EmpowHER
Reviewed November 21, 2011
by Michele Blacksberg RN
Edited by Malu Banuelos
Tags: