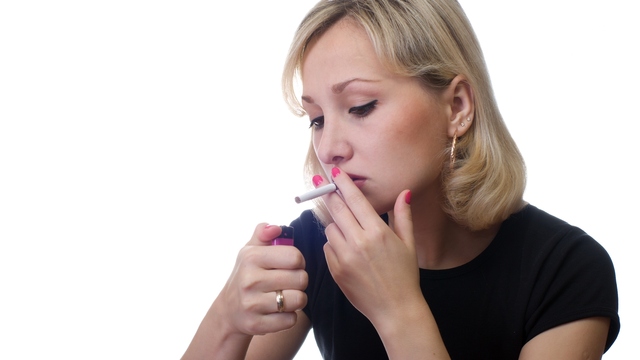 Nekrasov Andrey/PhotoSpin
Pleading ignorance of the dangers of smoking these days doesn't work. In fact, not many people can say that they didn't know that smoking was unhealthy decades ago.
The U.S. Congress passed a law in 1965 that all cigarette packs had to carry warnings so even somebody smoking now in their 80s would have known in their 30s that smoking was unhealthy.
But yet, according to the National Cancer Society, smoking still accounts for 30 percent of all cancer deaths with the majority of those deaths from lung cancer. About 80 percent of men and 70 percent of women who die of lung cancer do so because they smoked.
About 42 million Americans smoke and about 440,000 smoking-related deaths occur every year, according to EmpowHER's Smoking Cessation Advocacy Sheet.
Since about one in five men and more than one in seven women are still smoking, we have to ask why? Knowing the dangers, why still smoke? The reason seems to be poor decision-making at a young age that leads to a very difficult addiction within a few years.
People can take steps to combat this by an array of medications, patches, gums and therapy (both traditional and alternative).
Many smokers grew up in family homes where smoking was common. Smoking is still accepted as normal in many homes in the United States, and it's difficult to convince young people of its dangers, if it's a commonplace behavior at home.
But even if family members do choose to smoke, they can still limit it to doing so outside and remind younger people that smoking is never okay.
Lung cancer springs to mind when we think of smoking, but cigarettes are also connected to many other forms. From mouth cancers to throat and esophageal cancers, to cervical, stomach, kidney and uterine cancers, smoking negatively affects almost every part of the body. Cigarette ingredients can cause cancer almost everywhere, too.
So how exactly does smoking cause cancer? Cigarettes (and any form of tobacco) contain cancer-causing properties known as carcinogens. In cigarettes, some of these ingredients include formaldehyde, isoprene, acetaldehyde and dozens of others.
It's important to know that tobacco also impairs the body's immune system so that it has less of a chance of fighting these carcinogens. Women are more likely to get cervical, uterine or other reproductive cancers if they smoke than if they don't.
In fact, smoking causes the body to become generally weaker, less able to fight infections and more apt to have abnormal cells dividing in the body and invading other cells — the very definition of cancer itself.
If you do smoke, take steps to quit. Even if you've been smoking for decades, quitting now can significantly improve your health and your immune system, and lessen your risk of smoking-related cancers. Blood pressure lowers within 15 minutes and there are very positive long-term effects.
Talk to your doctor. Consider medication, patches and treatments like hypnotherapy, talk therapy, meditation and acupuncture.
None of us know when we will die, but smokers participate in choosing their own health and often, their own deaths. Even if smokers don't die of cancer, their later years will be greatly affected by tobacco. Many will end up in misery, losing body parts, on oxygen machines and with skin like leather.
The depth of the addiction is clear and the difficulty in quitting smoking is quite understandable. But as is the case with any other drug, it is possible to quit. Every part of your body will thank you for it.
Sources:
EmpowHER.com. Smoking Cessation Advocacy Sheet. Web. Retrieved February 18th, 2015.
https://www.empowher.com/addictions/content/smoking-cessation-advocacy-s...
Cancer.org. Tobacco-Related Cancers Fact Sheet. Web. Retrieved February 18th 2015.
http://www.cancer.org/cancer/cancercauses/tobaccocancer/tobacco-related-...
Reviewed February 23, 2015
by Michele Blacksberg RN
Edited by Jody Smith
Tags: