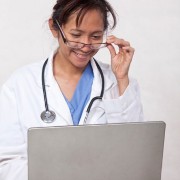 Photo: Getty Images
In yet another example of how iPhones are fast becoming a daily staple for monitoring our health, German based FotoFinder has launched a device and app that can potentially diagnose the deadliest form of skin cancer.
The Handyscope is a device that fits onto the back of an iPhone and becomes a digital hand-held dermatoscope – the tool that doctors use to closely examine moles for skin cancer. The Handyscope is placed directly onto the patients' skin and using polarized light takes enhanced high resolution photographs magnified 20 times for clarity and detail. When examining moles for signs of melanoma doctors commonly look for discoloration and irregularities in the size and shape of moles, all of which could be made even easier with this new device.
The captured images are then automatically saved within seconds and can be emailed to your doctor or specialists worldwide for second opinions. Doctors using the Handyscope have the option of sharing and analyzing the images, rather than just viewing through a regular dermatoscope.
"We developed the Handyscope for all doctors who want to have the possibility to take pictures of the skin and work with them later. It is an alternative for those who miss the 'capture-and-save' function when using conventional dermatoscopes," explained Andreas Mayer, chief executive officer of FotoFinder.
The Handyscope is a case which slips over the iPhone and fits directly over the phone's camera and the lens of the Handyscope. The device itself comes with a built-in 2400mAh battery pack with a life of eight hours.
The Handyscope was recently launched at the 69th Annual Meeting of American Academy of Dermatology in New Orleans. The device will retail for approximately $1,600, which is why it is more likely to be used by medical professionals rather than your everyday iPhone user.
According to the National Cancer Institute, 68,000 Americans are diagnosed each year with melanomas and a further 48,000 found to have an early form of melanoma involving the top layer of skin. This iPhone device and app could possibly help many patients receive a swift and accurate diagnosis and quite possibly from someone they never even met.
Source: http://www.fotofinder.de/fileadmin/user_upload/pdf/Press_release_skin_cancer_screening_with_iPhone.pdf
Tags: