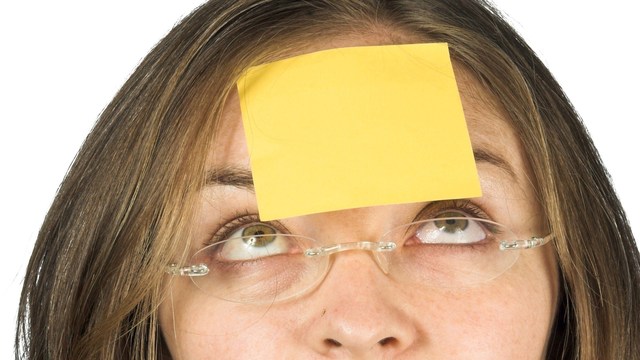 Andres Rodriguez/PhotoSpin
I talked about the causes of memory loss in my last article I Have Billions of Brain Cells But I Forget Why I'm at the Store. This week, we will continue our interview with Dr. Bruce Daggy, Adjunct Professor in the Nutrition, Food, and Exercise Sciences Department of Florida State University.
Daggy talked with us about having busy lives, and answers the most important question: Is there anything we can do to improve our memory!
EmpowHER:
Does having a busy life make us more forgetful?
Dr. Bruce Daggy:
On the extreme side of "busy", there are highly stressful situations that can lead to PTSD, where the brain can be wired to respond inappropriately to a situation. In less extreme circumstances, if a busy life is affecting things like sleep quality and stress levels, yes, that can impact memory.
Going through a divorce, losing a job or the death of a loved one ... events like these can temporarily affect memory and the thought process.
EmpowHER:
Is there anything we can do to help us remember better?
Dr. Bruce Daggy:
Yes!
If you smoke, stop. If you don't get regular physical activity, brisk walking for 30 minutes most days is a good place to start. And there are online programs like CogniFit that evaluate where you are and recommend games in areas you could improve.
Work with your doctor to know and manage any risks to your cardiovascular health. And although the brain is not a muscle, it shares with muscle the concept of "use it or lose it".
Learn a foreign language, take up a musical instrument or improve your technique, take a class in something you've always wanted to understand.
Supplements can help fill in the nutritional gaps between what our food intake provides and optimal levels. There are nutrients that have been clinically tested in supplement form and found to support short-term or long-term cognitive function.
One example is omega-3 fatty acids from fish oil (especially the fatty acid DHA).
There have been other ingredients recently studied for cognitive benefits. True guarana extract (not the caffeine concentrate labeled as guarana often found in so-called energy drinks) has been found in some studies to increase mental abilities.
There are certain B vitamins, and recently, certain plant molecules, called polyphenols, found in cocoa and in a particular Chardonnay seed extract that have also been studied for cognitive benefits. Sadly, drinking Chardonnay wine won't give the same benefits as the seed extract.
We have learned that our brain cells or neurons have strong connections that begin to deteriorate at age twenty and continue to decline at age fourty-five and older. The good news is there are behaviors that can help improve the memory.
Live Vibrantly,
Dr. Dae
Dr. Dae's website: www.healthydaes.com
Dr. Dae's book: Daelicious! Recipes for Vibrant Living can be purchased @ www.healthydaes.com
Dr. Dae's Bio:
Dr. Daemon Jones is your diabetes reversal, hormones, metabolism and weight loss expert. Dr. Dae is a naturopathic doctor who treats patients all over the country using Skype and phone visits. Visit her or schedule a free consultation at her website www.HealthyDaes.com
Sources:
Interview with Dr. Bruce Daggy
Dr. Bruce Daggy has a Ph.D. in Nutritional Biochemistry from Cornell University and a B.A. in Biology from University of Virginia. He has authored about 80 publications and abstracts, and has developed 13 patents in his name. He serves as Adjunct Professor in the Nutrition, Food, and Exercise Sciences Department of Florida State University. He is a member of the American Society of Nutrition, a Fellow in the American College of Nutrition, and has assisted the Obesity Society, the American Diabetes Association, the American Association of Diabetes Educators, and other healthcare organizations in a variety of volunteer capacities.
What is Guarana Used for Today? NYU Langone Medical Center. Retrieved October 9, 2014.
http://www.med.nyu.edu/content?ChunkIID=104598
Reviewed October 10, 2014
by Michele Blacksberg RN
Edited by Jody Smith
Key Words: memory, Omega 3 Fatty Acids,
Tags: