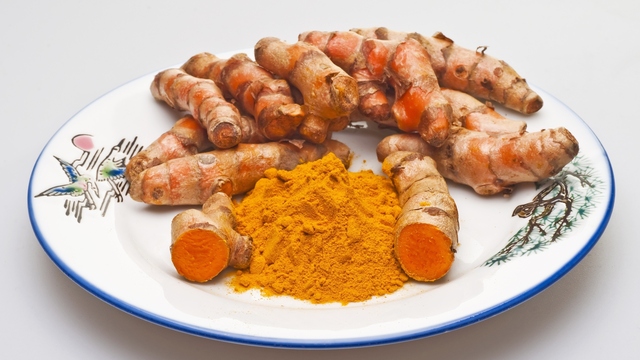 Hjschneider/PhotoSpin
It's October and everyone is seeing pink in honor of breast cancer awareness. Did you know that the use of exogenous hormones such as the birth control pill or hormones during menopause increases potential risk for breast cancer? This causes many women to avoid their use.
Unfortunately, the decline of natural hormones in the female body with age often leads to those irritating and frustrating menopausal symptoms. It's an imposing list including hot flashes, night sweats, insomnia, moodiness, aching joints, loss of libido, dryness everywhere and more.
Here are 5 herbs that can help reduce symptoms without having to use hormones.
1) Turmeric (curcumin)
Turmeric is often found in Indian dishes. Its anti-inflammatory and antioxidant properties also make it quite helpful for those suffering from body aches, joint pain, tendinitis and muscle fatigue. Turmeric may be helpful for headaches and digestive issues as well.
While eating the spice is helpful, it is more potent in capsule form. A therapeutic dose is between 1000-3000 mg divided through the day. Those who have gallbladder issues should be careful to start with lower amounts and build up slowly.
2) Black Cohosh (Actaea racemosa)
Black cohosh has long been studied for its effect on mild hot flashes and night sweats. It does not work on all women, but for those who benefit it makes a great, easily found over-the-counter alternative to estrogen. Rare side effects may include stomach upset.
It's typically dosed at 500-1500 mg, divided through the day.
3) Chaste Tree Berry (vitex agnus castus)
Chaste tree berry is most beneficial for those women who are still cycling in perimenopause, as opposed to those who have stopped cycling completely. It may help with PMS symptoms and breast tenderness. It also helps improve the brain-ovarian connection to naturally encourage progesterone production.
Typically doses are 250-1000 mg in the morning.
4) St. John's Wort
St. John's wort is helpful for women who are experiencing mild to moderate depression during menopause by improvement of serotonin levels. As a result, those women who are taking antidepressants of any kind should NOT take St. John's wort as it could lead to serotonin syndrome.
St. John's wort can render the birth control pill ineffective. It can also cause photosensitivity so you may need to avoid the sun, wear sunscreen and use sunglasses. Some women may find that it actually makes them feel too relaxed. It is advised to take this herb at night before bed.
St. John's wort is taken in divided doses at 300-900 mg per day.
5) Maca Root
Maca root is a Peruvian vegetable that is most useful for energy, stamina, and libido. It helps those who are stressed out and exhausted to regain some balance from an herbal point of view. It is not a magic pill. Women still have to take responsibility and be good to themselves.
Maca comes as a pill or a powder and is typically dosed at 500-2000 mg per day. It should not be taken too late in the afternoon or it may interfere with sleep patterns.
These five herbs may be a starting point for those women undergoing mild to moderate hormonal changes and need some non-hormonal support. Herbs generally take some time to work so you may not notice a difference for 60-90 days (2-3 menstrual cycles).
None of these herbs should be used while pregnant.
Talk with your herbal-trained health care provider today to see if these are good options to help you make a smoother hormonal transition.
Sources:
Dennehy, C. (2006). The Use of Herbs and Dietary Supplements in Gynecology: An Evidence-Based Review. Retrieved from
http://www.medscape.com/viewarticle/551014_2
Dower, M. (2011). Curry Spice Offers Hope To Tendonitis Pain. Retrieved from
http://www.medscape.com/viewarticle/747822
Reviewed October 28, 2014
by Michele Blacksberg RN
Edited by Jody Smith