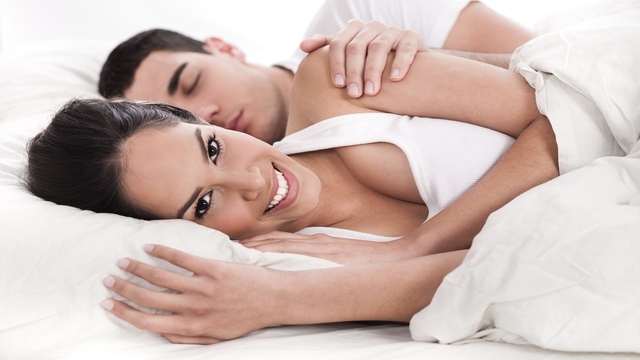 Get4Net/PhotoSpin
Period sex for many is off limits. The thought of sex during "that time of the month" may invoke the feelings of seeing a bloody horror film or reading a Stephen King novel.
Both men and women can be squeamish about blood. For example, I dated a guy who wanted to become a doctor and he refused to have sex with me during my period. The sight of blood freaked him out and he'd literally become physically sick at the sight of blood. Needless to say, he never became a doctor.
However, there are two very important things to know about period sex. The first is you can become pregnant during period sex. The second is that period sex can be just as exciting as regular sex when it's with the right partner.
According to a recent MensHealth.com survey, "more than three-quarters of the men polled said they'd love to have period sex, although 54 percent would do it only with a serious girlfriend or wife."
The main obstacle about period sex is overcoming the psychological barrier. If your partner is open-minded and won't faint at the sight of blood, it might be game on. But, if anyone becomes uncomfortable, it would make sense to stop the mini-adventure.
Here are some helpful hints if you decide to have period sex:
• Put down a dark towel
• Have sex on your lighter period days (after day one and two)
• Use a condom for easy man clean-up
• For less mess, stick with the missionary position
• Keep handy wipes or a small warm wet towel around
• Try a couple's shower afterwards and lather up
Ladies, you can also minimize the mess by using a menstrual cup. Womenshealth.com states, "Put in a soft-formed 'menstrual cup,' a sex-friendly alternative to tampons and sanitary pads. Insert it around your cervix, where it collects blood rather than absorbs it, and leave it there during intercourse."
According to Cosmopolitan and Ask Men Magazines, there are several benefits to having sex while on your period. These may include:
• More intense orgasms during period sex
• Orgasms during sex may shorten your period
• Lessens your period cramps
• Lowers the risk of pregnancy, though pregnancy is still possible if you're not using birth control
Dr. Dee Fenner, director of gynecology in the Department of Obstetrics and Gynecology at the University of Michigan in Ann Arbor states, "Although no studies have been done on this, it's likely that menstrual blood in the uterus is squeezed out during orgasm."
Sources:
Can I get pregnant during my period? - Cosmopolitan. The Online Women's Magazine for Fashion, Sex Advice, Dating Tips, and Celebrity News - Cosmopolitan. Retrieved September 9, 2013
http://www.cosmopolitan.com/sex-love/advice/pregnant-during-period?click=main_sr
How should I have sex during my period? - Cosmopolitan. The Online Women's Magazine for Fashion, Sex Advice, Dating Tips, and Celebrity News - Cosmopolitan. Retrieved September 9, 2013
http://www.cosmopolitan.com/sex-love/advice/sex-during-period?click=main_sr
"Period Sex." Womenshealthmag.com. Retrieved September 9, 2013
http://www.womenshealthmag.com/sex-and-relationships/period-sex
Sex During Period - Menstrual Flow - Cosmopolitan. The Online Women's Magazine for Fashion, Sex Advice, Dating Tips, and Celebrity News - Cosmopolitan. Retrieved September 9, 2013
http://www.cosmopolitan.com/sex-love/sexual-health/sex-affect-period?click=main_sr
Strovny, D. Menstruation - AskMen. AskMen - Men's Online Magazine. Retrieved September 9, 2013
http://www.askmen.com/dating/love_tip_60/61_love_tip.html
Reviewed September 9, 2013
by Michele Blacksberg RN
Edited by Jody Smith