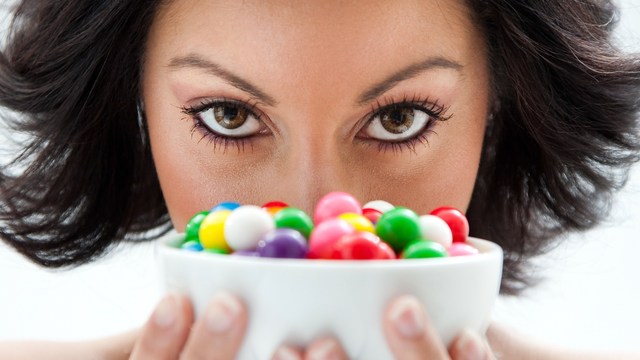 Paul Hakimata/PhotoSpin
If you're one of the many American women putting in overtime at work and resorting to chocolate to handle the stress of work-life balance (maybe that's just me), then look no further for help.
The Anxiety Summit, a virtual gathering featuring interviews with mental health and nutrition experts, includes an online interview with Margaret Floyd, a nutritional therapist and author of "Eat Naked: Unprocessed, Unpolluted, and Undressed Eating for a Healthier, Sexier You."
Her interview focuses on comfort food, sugar, and how it all affects our mood. It's called "Comfort food or sweet misery? How sugar controls your mood and how to get it out of your diet." Here is her profile on the summit's website.
Also, make sure to read my first article on two anxiety summits here for more details on pricing and times/dates of presentations for the Anxiety Summit and the Beat Anxiety Now World Online Summit.
In Floyd's interview, she emphasizes that sugar is in almost all foods that we consume now, even though our bodies are not fully adapted to it.
"One of our body's main priorities is to maintain a steady level of blood sugar, and it's a fairly narrow range," she said. "Anything too high or too low outside of ... the blood sugar happy zone ... is a state of emergency for our body."
She suggests that even that small bag of M&M's we might be giving ourselves as a reward for a job well done is actually quite harmful.
"That innocuous little dessert that we think we're having ... is actually going to put our body into a state of emergency," Floyd said. "It's going to give us that sugar high, which might feel kind of good, but from a biochemical level it's actually very taxing on the system."
Eventually there is a blood sugar crash, which is a mood drainer.
"When we have these crashes on a regular basis, we're really depleting our bodies, and that affects every single system," she said.
These crashes can make us feel cranky, anxious and panicky.
And if you're prone to low blood sugar swings, symptoms can be similar to anxiety, added Trudy Scott, the founder and host of the summit.
One big problem is that when we're having blood sugar levels that constantly spike and drop, we don't give our adrenal glands enough time to recover after these crashes, Floyd said.
And as a result, there can be adrenal fatigue, Scott added.
Floyd suggests avoiding foods with sugar, such as desserts, sweeteners (even natural ones like agave and honey) and starches. Also avoid processed foods, including salad dressing, as well as grains, potatoes, alcohol, fruit juices and dried fruit. Fresh fruit should be limited to one or two a day maximum.
Although there is a short-term boost in serotonin levels after eating sugar, your body will need more and more sugar for the mood boost, she said.
In the end, a sugar craving is a signal from your body that there is dysregulation.
"Because sugar is very powerful, I like to go full-on and take out anything and everything that converts quickly to sugar in the blood for a good two weeks," Floyd said.
You're refusing to feed the craving and avoiding the sugar spike when you take sugar out of your diet.
"It's kind of like a chiropractic adjustment for your blood sugar handling," Floyd said. "It means that you're not having that spike, which means you're not having the crash."
She suggests focusing on eating quality organic proteins and vegetables. It's also important to eat meat and products from animals who are treated humanely and fed well themselves.
It can be tough in the first week to cut sugar out, so some people may benefit from taking amino acids along with making the food changes, Scott added.
Make sure to look out for my third article on tips to overcome anxiety and stress from another summit this month called "Beat Anxiety Now World Online Summit."
Sources:
The Anxiety Summit. Floyd, Margaret. Audio clip. June 18, 2014. Web.
http://www.theanxietysummit.com/anxiety-summit-speakers/#margaret-floyd
Beat Anxiety Now World Online Summit. Bennett, Jeremy. Audio clip. June 18, 2014. Web.
http://beatanxietynowsummit.com/project/jeremy-bennett
Reviewed June 20, 2014
by Michele Blacksberg RN
Edited by Jody Smith