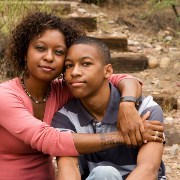 Photo: Getty Images
Mental illness not only affects certain individuals – family members and friends can suffer along with the individual. For family members who want to learn how to cope with a loved one impacted by a mental illness and understand different mental illnesses better, the National Alliance on Mental Illness has an education program that can be helpful.
The Family-to-Family Education Program is a free 12-week program in different locations in the U.S. and other countries that now has data to support its effectiveness in helping family members who attend. The program has been around since 1991, and it covers mental illnesses like schizophrenia, major depression, bipolar disorder, obsessive compulsive disorder, borderline personality disorder and addictive disorders, according to the NAMI website.
Lisa Dixon, one of the researchers for the study called "Outcomes of a Randomized Study of a Peer-Taught Family-to-Family Education Program for Mental Illness" that was released in June, 2011 in the journal Psychiatric Services, said the results showed how helpful the program can be.
"At the end of three months, which is a very short time, [there is] very strong evidence that these family members come out different than when they started," Dixon said. "They feel more empowered in every domain within their family … they have more knowledge of mental illness, and we have good evidence … that they have improved emotion-focused coping, greater acceptance of mental illness … reduced anxiety and they … are better able to problem solve in their families."
This improvement for family members could lead to better outcomes for the person with a mental illness, although the study didn't focus on that aspect. The study was funded by the National Institute of Mental Health.
"I think the fact that problem solving and skills improve, anxiety goes down, coping goes up, those are things that can really make a difference in the life of a person and [the] life of a family," said Dixon, a psychiatrist, professor and director of the Division of Services Research at the University of Maryland School of Medicine.
She was first attracted to working with NAMI and the program because of its popularity and ability to reach many people. She works in the mental health field in general because of her own family's experience with mental illness.
"I have a brother with schizophrenia. [It's] had a big impact on my choice of career," Dixon said. "My brother became ill 30 years ago or more, and certainly at that time, there was far less information available, far less … understanding of the needs of families. My own family … we didn't know what was going on. It was very confusing and stressful."
Part of NAMI's education program is to educate families about mental illness and to provide a supportive environment.
"The fact that we now have actually a rigorous, randomized trial is a big deal," Dixon said. "The study itself I think documents something that the people in the class, I think many of them know in their hearts, but we live in a world where data is very powerful. It was our kind of commitment to try to do a really really good study."
She said the results could mean more funding for the program because it's an evidence-based practice now.
Women seem to be more attracted to the education program: 77 percent of the total participants were women, and 23 percent were men. There were 259 participants in the sample.
Outside of the study, there also appear to be more women involved, though men are starting to attend more, said Pam Haynes, Colorado's Jefferson County course coordinator and co-teacher of the education program.
"Breaking through stigma for men caring for a loved one may be a little more difficult, but through these classes it becomes a non-issue," Haynes said. "Women, it's kind of our role to be nurturing and learn as much as we can."
Lynne Saunders, the program's director of technical assistance and special projects, confirmed in an email that there used to be a lot more women participants.
"We joked about the men who did participate were drug kicking and screaming to the classes by their spouse or female relative taking the class," Saunders said. "Today although we haven't done an official count, we believe the number of men is almost equal to women involved in taking and teaching F2F."
Haynes is not surprised by the study results.
"The study only confirms what so many of us who have been teaching the course, as well as the many students … have known, that what is learned in this class is instrumental in helping everybody cope better," Haynes said.
She first took the class and then became a co-teacher.
"It helped save my life," Haynes said. "When I took one of the first classes that was offered in Colorado, I was desperate for information because of a very difficult family situation and was afraid. I had no knowledge of what mental illness was. I have three direct family members that I've grown up with who have illnesses and no one talked about it. So what it meant to me was opening the gates. It gave me hope, it gave me clarity. I lost that fear that comes from not knowing, and kind of I gained an insight into the fact that there are things I can't do and it's nothing to be afraid of. It's an illness, it's a biologically-based illness, and it can be treated, and family support is so important in working with the medical field and the social support systems. I learned it was OK to break the silence."
She said the feedback she received from her students was positive.
"The response is overwhelmingly one of hope and more comfortable with decisions that they may have to make," Haynes said. "So rather than that fear and that discomfort during the first class that they may have felt, they leave it feeling empowered … What comes out of it is an immense amount of respect, not only for themselves and each other, but for the family member who's struggling with a very devastating illness."
Saunders vouches for the benefits of the program as well.
"[The study] confirms what thousands of graduates, teachers, and trainers have reported over the years about the program's effectiveness," Saunders said in an email. "It's been a long time coming for all of us."
She went through the program herself and found it rewarding. She even shared her story on a video on NAMI's website.
"In it I talk about how much the program helped me gain empathy for and awareness of what my sister was going through with her mental illness," Saunders said. "I no longer thought of her as 'the problem' but rather she was a 'heroine' in dealing with her mental illness day after day."
Haynes said this specific class is just for family members so they have a safe, comfortable place to learn and talk. However, participants can have a mental illness and still be there to help another family member.
"It's finally a place for family members to go and be able to express themselves without worrying that they're going to upset their family member," Haynes said.
She said the class has a confidential nature to it, so family members can feel safe.
For individuals with a mental illness, NAMI has other programs called Peer-to-Peer and NAMI Connection, which are free. Browse the NAMI website for more information.
For more information on the Family-to-Family education program and a link to locations, click here: http://www.nami.org/Template.cfm?Section=Family-to-Family
Sources:
Dixon, Lisa. June 21, 2011.
Haynes, Pam. June 22, 2011.
Saunders, Lynne. Email interview. June 23, 2011.
Reviewed June 23, 2011
Edited by Alison Stanton