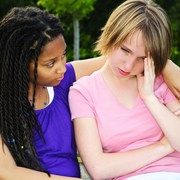 MonkeyBusiness Images/PhotoSpin
Although National Teen Dating Violence Awareness and Prevention Month is about halfway over, there is still plenty of work to be done in order to help all teens end their struggle with dating violence.
In the last part of a three-part series exploring teen dating violence and its effect on mental health, experts discuss ways to help teens get out of a violent dating situation, how to recover after teen dating violence (including coping tips), and how to end teen dating violence overall.
Sheela Raja, a clinical psychologist and author of Overcoming Trauma and PTSD said in an email that if you find yourself in a dating violence situation, it's necessary to do careful planning in order to get out.
"Some studies suggest that women are most likely to be murdered at the point of leaving a violent relationship," Raja said.
"It is important for a woman to plan ahead, seeking help from local domestic violence shelters and advocates. She can also seek help through the national domestic violence hotlines."
Once you do get out, there is generally a recovery process to go through. Here are three aspects of recovery that women will have to work on once they're out of an abusive relationship, according to Raja:
1) "It is important for women to understand the cycle of abuse and not blame themselves. No one deserves to be abused."
2) "After leaving an abusive relationship, it is also important for women to begin to make their own decisions financially and in relationships."
3) "Women can work with a trained therapist to try to learn how to set limits in relationships and also manage feelings of anxiety, depression and deal with negative ways of coping with those feelings (substance-abuse, etc.)."
Raja also said there are ways we can help end dating violence in our society:
1) "I think we need to talk to our teens about not confusing jealousy and control with love."
2) "I also think we need to use popular media as a teaching point. For example, talk to your daughters about Rihanna and Chris Brown."
3) "Set a good role model for [teens]. If they see their mothers being treated well in relationships, that is probably the most powerful way to stop the cycle of violence in our culture."
4) "We need to teach our teen boys that using violence to solve problems is not acceptable. Again, fathers play a key role here."
Silvia M. Dutchevici, a licensed master social worker, and president and founder of the Critical Therapy Center, said in an email that teen girls who are trying to get out of a violent dating relationship should not feel afraid to tell their parents or caretakers about the abuse they are experiencing.
Their caretakers could be a great source of help. Otherwise, there are agencies that teens can go to for help.
There are plenty of online resources as well, such as the websites http://www.loveisrespect.org/ and http://www.thehotline.org/is-this-abuse/teens-and-dating-abuse/
"Teaching young women to value themselves and teaching them about healthy relationships is equally important," Dutchevici said.
After teens get out of an intimate partner violence situation, it can be helpful to go to support groups and to have a group of supportive friends to turn to. In all cases, teens should know that it is not their fault that they've been abused.
"Abusers often tell their partners that it is their fault - which of course is another form of manipulation," she said.
Mike Domitrz, founder of The Date Safe Project and author, said in an email that there are local crisis centers and shelters that will help teens get out of dating violence situations.
"They have dedicated, compassionate advocates who can help build a pathway out of the dating violence and into a positive future," Domitrz said.
Besides seeking help from advocates and professionals, a great way to recover from dating violence is to journal about it, he said.
"Many survivors share with me how much writing down their thoughts and feelings helped them see where they wanted to be [versus] where they were," Domitrz said.
He has two main solutions to solving the teen dating violence problem:
1) "Educate teens about healthy relationships and intimacy … The more you talk with teens the right way, the more you help them slow down their decision-making process to make the right choices."
2) "Support survivors. The more survivors we help come forward, the stronger a statement we make to the abusers that their behavior will not be accepted in our communities."
Part 1 of the series: National Teen Dating Violence Awareness and Prevention Month: Part 1
Part 2 of the series: The Mental Health Aspect of Teen Dating Violence: Part 2
Sources:
Raja, Sheela. Email interview. Feb. 4, 2013.
Dutchevici, Silvia M. Email interview. Feb. 4. 2013.
Domitrz, Mike. Email interview. Feb. 4, 2013.
Reviewed February 14, 2013
by Michele Blacksberg RN
Edited by Jody Smith