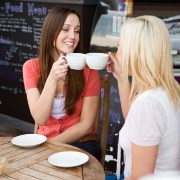 Photo: Getty Images
It's a new year, and many people have lofty goals of improving every aspect of their lives. However, it's more realistic to start in steps, and one improvement that could drastically change everyday life is making more positive relationships.
Experts have advice on how to make more positive relationships with all types of people, including family, friends and significant others.
Sandy Weiner, a dating coach at Last First Date, LLC, has eight tips for readers on how to develop more positive relationships.
1. "Be a great listener. Seek to understand before being understood."
2. "Regularly show appreciation and gratitude."
3. "Be kind in small and big ways."
4. "Follow through on your commitments."
5. "Don't blame. Take responsibility for your own issues."
6. "Be happy for each other's successes."
7. "Talk out your issues with each other, not with other people behind their back."
8. "Don't try to fix, change, manipulate, or control each other. Accept them for who they are."
Barbara Desmarais, a parenting and life coach, said in an email that complimenting others in a sincere way can help you create more positive relationships, along with a few other strategies.
Not surprisingly, you might need to work on yourself to get the type of relationships you want with other people.
1) "Avoid focusing on your problems. Hearing someone complain all
the time drags people down and doesn't draw them to you."
2) "Smile a lot. Everyone likes to be around people who smile."
3) "Be able to laugh at yourself. Most people enjoy being around
people who don't take themselves too seriously."
4) "Notice people's strengths and comment on them."
5) "Avoid interrupting. If someone is talking to you, let them
finish."
6) "Most people respond favorably to touch. A gentle touch of the arm
or shoulder says a lot and communicates, warmth."
7) "When saying hello to someone, use their name. There is a huge
difference between 'Hi!' and 'Hi, John!' Use their name in conversation as
well."
Julie Melillo, a relationship and life coach in Manhattan, said in an email that you can express and listen to opinions in a more effective manner to help build better relationships, instead of allowing differing opinions to start arguments and harm relationships.
"Allow others to have their opinions," Melillo said. "To build intimacy, we do need to learn about other people's opinions, even if they disagree with our own outlook. To respect other people's opinions, learn diplomatic phrases to use. Example, 'I see your outlook there, and it makes sense. I have a slightly different view.' Or 'Your view is completely valid, but I have a different opinion.'"
Having empathy for others is a major way to create satisfying relationships, she said.
"Stop and see a situation from another person's perspective, even if you don't agree with their outlook," Melillo said. "Try to emotionally feel what it is like to be them in this situation, and express that you understand how they are feeling. Expressing this builds a bridge between you, despite how disparate your opinions on a topic are. Always ask to clarify that you do understand the other person's perspective."
Marina Sbrochi, the IPPY award-winning author of "Stop Looking For a Husband: Find the Love of Your Life," has five tips toward the goal of more positive relationships:
1) "Project positivity in your dialogue with others."
2) "Start your day with a smile."
3) "Don't gossip."
4) "Little acts of kindness. Take that little extra step when you see the opportunity ... Try to do one kind thing for someone else each day."
5) "Don't engage in the negative."
There are many more ways to have fulfilling, positive relationships. What are your suggestions?
Sources:
Weiner, Sandy. Email interview. Jan. 3, 2012.
Desmarais, Barbara. Email interview. Jan. 3, 2012.
Melillo, Julie. Email interview. Jan. 3, 2012.
Sbrochi, Marina. Email interview. Jan. 3, 2012.
Reviewed January 4, 2012
by Michele Blacksberg RN
Edited by Jody Smith